'Deadpool' and Ryan Reynolds Have Trolled Their Way Through an Entire Marketing Campaign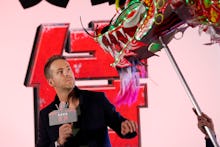 Wally Santana/AP
There were never any doubts that Ryan Reynolds would be the titular character in Deadpool — the pairing was in the cards for over a decade. Yet the execution of the movie was painstakingly slow. After 12 years, defying the odds, it's almost here. 
The ever-talkative mercenary's movie will hit screens Feb. 12. Ahead of the release, Reynolds and the Deadpool team have taken part in a highly creative, troll-filled marketing campaign. The raunchy campaign is spot-on with the comic book character's wacky persona, which guarantees the movie will be a wild ride. In that way, the marketing serves as a prologue to the film itself — and should have fans salivating for the final product.
Read more:
Increasingly ridiculous posters: From the first reveal of the Merc With a Mouth, 20th Century Fox didn't hold back. The posters grew increasingly suggestive, each designed like the character was making them for his own narcissistic joy. It's tough to not make them look like studio creations, but Fox brought the right sense of mischief to each.
How Deadpool spent Halloween: To celebrate Halloween in a special featurette, Deadpool joined a group of children dressed as X-Men characters and trained them for the evening. This included giving them weapons, cursing in their face and telling them their powers suck. Oh, and he was probably drunk the whole time. It was a learning experience for everyone, really.
A trailer ... for his trailer: Sure enough, the studio released a trailer for the upcoming trailer. As the movie's Twitter account noted at the time, he's quite the "post-modern asshole." 
A Christmas countdown: In honor of the holiday season, fans were treated to "12 Days of Deadpool," a social campaign that culminated with a new Deadpool trailer on Christmas Day. Posters, script notes and even a set of Deadpool-themed emojis were unveiled before the new, "even more" NSFW trailer was released. 
Insulting Australia and Hugh Jackman: To honor the Aussies on their national day, Reynolds recorded a special message for the people down under. By honor, we mean he mocked the Aussie accent, their "condescension toward New Zealand" and the country's national treasure: Hugh Jackman. It's hard to argue with Deadpool, though: X-Men: Origins was a career low for everyone. 
Testicular cancer PSA: It's really important for men to check their testicles regularly — or, as Deadpool puts it, our "smooth criminals." While the video is hilarious, it does touch on a very real issue. As even the most absurd character, Reynolds gives a thorough description of how to properly check for testicular problems, and when you should talk to your doctor. It's proof even men's health can be shockingly funny.
Deadpool is the perfect Valentine's Day rom-com. Wait, what? Is there any way you can convince your significant other to watch Deadpool over Valentine's Day weekend? If they've seen the trailer, probably not. However, the marketing team is hellbent on helping you trick the people closest to you. In a set of Valentine's Day-themed posters, the studio implies that Deadpool is really a light-hearted romantic comedy about true love. If the film's tone is anything close to the eccentric marketing campaign — and there's no reason to think it won't — Deadpool won't disappoint.