Music Festivals in 2016: Full List, Headliners and Dates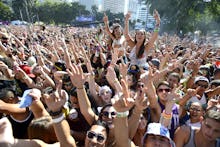 Tim Mosenfelder/Getty Images
Although it may still be winter, spring and summer music festivals are in the middle of rolling out lineups and announcements. Music lovers will be soon be packing up their sunscreen and sleeping bags to travel to the countless festivals taking place across the nation. 
In 2014, Rolling Stone declared that festivals "have come to dominate the music industry." Up-and-coming bands and artists validate their progress by being chosen to perform, while old-school favorites who haven't released new music in years can still awe fans (and, in turn, rake in the dough).
Read more:
Festivals, also known as total musical binging, have become a huge part of American culture, according to Rolling Stone. Honey, we're not in Woodstock anymore. With new information and lineups being released left and right, it can be confusing and overwhelming to pick which festivals to attend. Here the total low-down of the music festivals occurring in 2016, with information from Fest300: 
1. South by Southwest
When: March 11 to 20
Where: Austin, Texas
The hip city of Austin, Texas, kicks off festival season with its super-indie music, tech (billed "Interactive") and film showcase. The 10-day cultural festival is an intimate affair, taking place in local venues like the BBQ joint Stubb's, and with many hush-hush invite-only events and performances, according to Fest300. SXSW started off as an opportunity for indie bands to expose themselves to music labels, but has become more about the thrill of exclusivity and spontaneity. This year, show-goers can expect to hear music from Iggy Pop and a keynote from the late David Bowie's producer Tony Visconti, according to the festival's website. Attendance badges range from  $445 to $1645.
2. Ultra Music Festival
When: March 18 to 20
Where: Miami
Named for its electronic-heavy music record label, Ultra is a giant dance party under the Floridian sun, which means you better stay hydrated. Top DJs from all over the world, and even indie acts with an electronic flair, head down south for the weekend-long rave, which started in 1999. This year, Avicii, Caribou, Armin Van Buuren and Afrojack are just a few of the headliners. Tickets are sold out but can be purchased on third-party sites.
3. Coachella
When: April 15 to 17 and April 22 to 24
Where: Indio, California
The desert of Indio, California, is turned into a musical playground and campground for two weekends in April. Artists of all genres head on over to the celebrity-ridden and art-decorated festival under the sun. Tip: The first weekend is usually considered the best. LCD Soundsystem, Guns N' Roses and Calvin Harris are headlining this year. Tickets are sold out but can be purchased on third-party sites.
4. Stagecoach
When: April 29 to May 1
Where: Indio, California
If Coachella is too much, consider Stagecoach, its more laid-back country music-based younger sibling that started in 2007. Get ready for the constant smell of BBQ and plan a break to catch a performance of cowboy poetry and storytelling. As Coachella inducted, there will also be a Ferris wheel. Headliners are country music staples Carrie Underwood, Eric church and Luke Bryan, but the up-and-coming and Grammy-nominated band Little Big Town will be there too. General admission starts at $299. 
5. Moogfest
When: May 19 to 22
Where: Durham, North Carolina
Started in 2004 for electronic pioneer Robert Moog, Moogfest is the festival for electronic music-lovers who shy away from something as big as Ultra. Moogfest calls itself the "platform for conversation and experimentation." Speaking events — from producers and artists — are held during the day, and concerts begin in the evening. This year, Odesza, Sun Ra and Gary Numan will be performing. A general admission pass costs $249. 
6. Hangout Festival
When: May 20 to 22
Where: Gulf Shores, Alabama
Like its name implies, Hangout is literally about hanging out on the beach in the South and listening to some of the most current names in music. The summer vibes festival will be headlined by Florence and the Machine, the Weeknd and Calvin Harris. Tickets start at $269, and as the site says, "Bathing suits not included." 
7. Lightning in a Bottle
When: May 25 to 30
Where: Bradley, California
Lightning in a Bottle is produced by the California creative company Do LaB (which has a small electronic stage during Coachella) but actually started out as a private birthday party up in some California mountains. Along with musical performances, Lightning in a Bottle also hosts yoga and medication services, and has won the Outstanding Greener Festival Award for the past five years. Keep in mind, stages are incredibly theatrical and people will definitely dress up. Chet Faker, Grimes and Jamie XX will be headlining this year. Four-day passes are $270.
8. Sasquatch!
When: May 27 to 30
Where: Quincy, Washington
This rustic Pacific Northwest festival is held in at the Gorge Amphitheater near a small town in Washington, right above the Columbia River. There's always a mix of music genres, as well as a few comedians. Festival goers camp out, but prepare for the weather, which can range from windy to warm. Headliners for this year include Florence and the Machine, the Cure and Disclosure. General admission festival passes are $350.
9. Governor's Ball Music Festival
When: June 3 to 5
Where: New York City
Naturally, a cultural hub like New York would be the host of a diverse summer music festival. Started in 2011, Governor's Ball actually had to move from Governor's Island to Randall's Island because its attendance grew so large. The headliners are always impressive, and this year's will be Kanye West, the Strokes and the Killers. General admission tickets are selling for $290.
10. Bonnaroo
When: June 9 to 12
Where: Manchester, Tennessee 
Despite its huge size (700 acres make it the largest festival in North America) and big name, Bonnaroo has a laid-back atmosphere reminiscent of summer camp in the countryside. Campers have access to service stations called "pods," which offer things like showers. Centeroo is where all the fun stuff is, like the stages and Ferris wheel. LCD Soundsystem, Pearl Jam and Dead & Company are headlining this year's lineup. Tickets are $349.50.
11. Mysteryland
When: June 10 to 13
Where: Woodstock, New York 
Located right by Woodstock's famous campgrounds, Mysteryland is an escape to culture, music and sustainability from the hustle and bustle of New York City. It focuses mainly on electronic music, and this year's headliners are Odesza, Skrillex and Bassnectar. To camp, three-day non-camping tickets start at $234 (and $899 for two people to camp).
12. Firefly Music Festival
When: June 16 to 19
Where: Dover, Delaware
Firefly is relatively young, started in 2012 by Red Frog Events. Regardless, it still brings in big artists of all genres to headline. It's a good balance of trendy and rustic, with a Coffeehouse area and an air-conditioned arcade called the Beercade. To take a break from all the performances, Firefly offers a Hammock Hangout, complete with televisions. Mumford and Sons, Kings of Leon and Florence and the Machine are headlining this year. A four-day pass begins at $299.
13. Electric Daisy Carnival
When: June 17 to 19
Where: Las Vegas
EDC may be Ultra's main rival as far as major electronic festivals go. Since 2011, fans have gathered in the desert of Las Vegas to celebrate dance culture with some of the most famous DJs. It also doesn't disappoint on the "carnival" aspect, bringing in rides like swings and carousels, as well as clowns and stilt-walkers. There's also no camping for EDC, which could be useful since the headliner may not finish until the sun rises. So far, no lineup have been announced. Tickets are on sale for $355.
14. Electric Forest Festival 
When: June 23 to 26
Where: Rothbury, Michigan
Electric Forest is decorated to be an enchanted dance forest that would appear in an even more trippy version of Alice in Wonderland. In fact, the visual experience is almost as important as the performing artists. Those who attend should consider camping, since there's a lake to swim in. The lineup and ticket sales date have yet to be released.
15. Lollapalooza 
When: July 29 to 31
Where: Chicago
This is a big year for the already well-known Lolla festival — it's its 25th anniversary, meaning it'll span four days this year. Started by Jane's Addiction's lead singer Perry Farrell, Lollapalooza was meant to be a home for alt-rock bands but has ended up hosting some of the biggest names in music, such as Nirvana and the Beastie Boys. It's been compared to Woodstock based on its emphasis on fostering counterculture. The lineup has yet to be announced but four-day tickets start at $335.
16. Outside Lands
When: Aug. 5 to 7
Where: San Francisco
Leave it to San Francisco to host the eclectic festival Outside Lands, which includes comedy and music performances. Since the festival takes place in a park, camping is not allowed. However, Outside Lands is the one for foodies, since local food vendors and wineries will be present. The lineup has yet to be announced.
17. Burning Man
When: Aug. 28 to Sept. 5
Where: Black Rock Desert, Nevada
Located just a little north of Reno, Nevada, is an experimental and man-made utopia called Burning Man. The festival is dedicated to "radical self-expression and radical self-reliance," according to its website. Each year, Burning Man has a special theme, but goers are urged to bring whatever they need to survive the village, aka the adult camp.