Best Workout Songs to Keep You Moving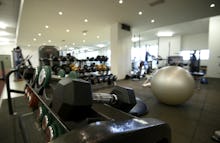 FRANCK FIFE/Getty Images
It's a new year, and with it, a plethora of New Year's resolutions from people dedicated to exercising more in 2016. Now, it's not to suggest that this is always the case, but New Year's resolutions can notoriously fade over time. 
However, the benefits of working out are numerous, and it's important to fight through the temptation to quit an exercise-themed resolution early. With the proper mindset, if you're able to make it through the first couple of months, it may become second nature. To get there, though, it's important to have the right music. 
Read more: 
Thankfully, there's a lot of genres that work, if you're picky. Whether you're into the modern day EDM, hard rock old and new, hip hop or some retro disco tunes, there's just one important constant that's needed: an up-tempo, heart-pounding beat. 
From the older '80s classics like A Flock of Seagulls' "I Ran So Far Away" to last year's big hit, "Uptown Funk," this playlist will give you an adrenaline boost — and a versatile lineup — to keep going: