People Think a Guard Is Responsible for Gynnya McMillen's Death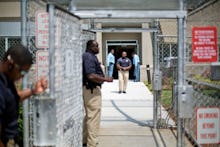 Gynnya McMillen's first-ever night in detention turned out to be her last: McMillen was found dead in her cell at Lincoln Village Juvenile Detention Center on Jan. 11, CBS News reported. During the booking process the day before, McMillen refused to remove her sweatshirt for a search, which prompted a guard at the Elizabethtown, Kentucky, facility to use an "Aikido restraint" on the girl. 
McMillen was arrested Jan. 10 after police responded to a domestic violence call at her mother's house, BuzzFeed reported. After she was charged with misdemeanor assault, McMillen was transferred to Lincoln Village and placed in isolation.
Aside from the use of a physical restraint, McMillen was not checked every 15 minutes, a requirement for people held in isolation at Lincoln Village, according to CBS News. It is unclear why McMillen was put in isolation. McMillen was found dead in her cell at 9:55 a.m. despite not responding to a 6:30 a.m. call for breakfast, an 8:30 a.m. call for a snack or a phone call from her mother. 
In an email, Stacy Floden, spokeswoman for the detention center, defended the use of force. 
"The staff performed an Aikido restraint hold to safely conduct a pat-down search and remove the youth's hoodie," Floden wrote in a statement to CBS News. "The purpose of having multiple staff involved in a controlled restraint is to ensure the safety of the youth and staff."
Currently, Kentucky State Police and the Justice Cabinet's Internal Investigations branch are investigating her death. Youth in isolation must be under video surveillance in Kentucky, and the family is currently fighting to get the surveillance footage released, BuzzFeed reported. 
"We haven't been given any information," family member Dana McDuffie told BuzzFeed. "There are just a lot of question marks out there."
Though officials currently believe McMillen died in her sleep, they have placed Reginald Windham, a detention center employee with 10 years' experience who did not check on McMillen, on paid administrative leave.
According to audio footage of the 911 call, obtained by CBS News, staff did not perform CPR on McMillen until about 11 minutes after finding her. 
Source: Soundcloud
However, attorney and juvenile justice expert Michele Deitch told CBS News that the use of forceful restraint on youth is usually reserved for instances of risk of physical danger. She's also critical of the use of martial arts. 
"I've never heard that phrase used in the context of a corrections setting," Deitch told CBS News. Deitch added that the martial arts technique is not an appropriate response to refusing to take off a sweater, in her opinion. 
"As far as I'm concerned, that is a completely inappropriate use of a restraint," Deitch said. "This goes back to not being so punitive with kids. That's not just how you interact if you want to achieve a positive social response."
Deitch is also author of the chapter in the federal National Institute of Corrections' guide to working with youth in confinement. In that chapter, she advocates ways to de-escalate situations without the use of force. 
"Situations in which there is not active violence, but a youth simply refuses to comply with an order or is passively resisting do not constitute an immediate necessity of force; policy should clarify this," Deitch wrote. "The continuum of force must offer options for staff — including separation of the youth from peers, verbal de-escalation, or the involvement of mental health staff — that do not involve hands-on measures."
According to BuzzFeed, McMillen was visiting her mother the weekend when the conflict occurred. McMillen was in foster care and was allowed to visit family after displaying good behavior. 
People on Twitter have rallied around McMillen's case and brought up several parallels to the death of Sandra Bland, the Texas woman found hanged while in police custody. Bland was stopped in July for a minor traffic violation while on her way to a job interview. The grand jury in Bland's case chose not to indict anyone related to her death.