Huge Gang of Masked Men Terrorizes Refugees in Stockholm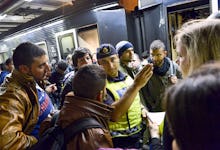 A group of 100 masked men marched throughout central Stockholm on Friday, handing out leaflets saying "It's enough now" and threatening "north African street children who are roaming around ... [with] the punishment they deserve," reported the Guardian, per Swedish paper Aftonbladet.
The leaflets said that police had proven themselves unable to handle the many immigrants arriving in the city, and the recent murder of a social worker at a Swedish refugee camp on Monday, leaving them with "no alternative" but to mete out vigilante justice.
According to Reuters, witnesses saw the gang of men attack a number of individuals, and one of the group was arrested for "punching a plainclothes officer in the face." The group targeted people who appeared to be migrants.
The news may come as surprise to some in the U.S., where Republican presidential candidate Marco Rubio recently cracked a joke about the country's supposed socialist leanings. But the ongoing refugee crisis has correlated with a surge in support for anti-immigrant parties in Sweden.
Polling recently showed Sweden's ruling Social Democrats have just 23.3% of the electorate, the lowest the party has polled since 1967, according to the Local. The progressive wing consisting of the Social Democrats, Greens, and the Left Party polled a cumulative 37.2%, compared to the four center-right Alliance parties, which polled 42.8%.
The Local reported the dip in the Social Democrats' popularity likely had to do with immigration — Sweden took in 160,00 asylum seekers in 2015, including 26,000 unaccompanied minors. Up to 55% of those migrants are likely to have their applications for asylum rejected.
Anti-refugee sentiment, protests and even acts of violence across Europe have grown in recent months amid rising tensions over how to deal with the more than 1 million migrants who arrived on the continent in 2015.
"I think many people are concerned and worried that there will be more violence since Sweden has received so many unaccompanied children and young people," Prime Minister Stefan Löfven said after the social worker was killed, according to the Guardian. "Many of those who come young to Sweden have traumatic experiences, and there are no easy answers."