Ilvermorny Is the North American School of Wizardry, Says JK Rowling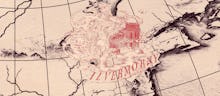 Harry Potter's American fans can now stop wondering just where they would study wizardry if they existed in British author J.K. Rowling's fictional magical universe.
Rowling has released the name of the North American school of magic — Ilvermorny — along with the names of three other international wizarding academies across the globe, bringing the number of confirmed schools including the U.K.'s famed Hogwarts to seven.
Ilvermorny's name was announced Friday night by actress Evanna Lynch at the Celebration of Harry Potter at Universal Orlando Resort, and subsequent details were posted to franchise website Pottermore.
According to Ilvermorny's position on the map, it's located in northern New England or possibly in Canada.
Few other details about the school are currently available. A page on Pottermore dedicated to the school said "coming soon."
Other additions to the canon include the schools of Castelobruxo in the Brazilian rainforest, Mahoutokoro on the Japanese island of Minami Iwo Jima, and Uagadou in the Mountains of the Moon, located in an unnamed African country.
Castelobruxo is guarded by small, furry and nocturnal spirit beings named Caipora, and its students are experts on Herbology and Magizoology.
Mahoutokoro is the smallest Wizarding school and boasts an "ornate and exquisite palace ... of mutton-fat jade," and its students wear wizarding robes which change color as they ascend through the ranks of the training. 
Uagadou is the most renowned of all African wizarding schools and is a "stunning edifice carved out of the mountainside and shrouded in mist, so that it sometimes appears simply to float in mid-air." Many wizards and witches there do not use wands.
According to Pottermore, there are 11 major schools of magic in J.K. Rowling's universe, meaning four remain to be unveiled. Rowling teased on Twitter that the name of the school for Australian students, for example, will be "revealed in due course!"
The next film adaptation of Rowling's work, Fantastic Beasts and Where to Find Them, will be released in November.