A Mom Is Suing Her Openly Gay Son's School District After He Was Threatened — By a Teacher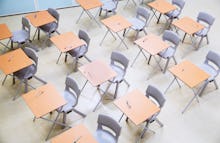 Sometimes, the bullies aren't on the playground. 
Shawna Dicintio, the mother of an openly gay and disabled student in Oregon's Hillsboro School District, is suing the school district after a teacher allegedly threatened to push her son down the stairs, the Oregonian reported. 
The lawsuit claims that during an assembly, Dicintio's son was discussing a student he thought was cute with a friend. A teacher, Brett Trosclair, allegedly turned around, told them to shut up and then threatened to kill them and throw them down the stairs. 
According to an interview with the student on KATU, the student was "shocked." 
School officials put Trosclair on administrative leave after the students complained, though some students have supported Trosclair, saying he was a sarcastic teacher who was joking. They started the hashtag #TeamTrosclair, launched a Facebook page and organized a walkout.  
According to the Oregonian, after Trosclair returned to teaching, people began to harass her son, calling him a "diva and a bully." The suit also claims her son was called a "diva" and a "priss" by teachers in September 2014 and that they failed to sufficiently address the problem. The paper also reported after the first incident the school district offered two-hour classes on LGBT diversity, but it is unknown whether the classes were mandatory.
The lawsuit makes seven claims against the school, including a violation of First Amendment free speech rights and 14th Amendment equal protection rights, according to the Hillsboro Tribune. 
Dicintio is seeking payment for her son's medical bills and to allow her son, who currently takes classes online, to return to school with a paid police escort or private security, if necessary. She's also demanding eight hours of LGBT training for all the teachers in the district. 
According to the Gay, Lesbian and Straight Education Network's 2013 National School Climate Survey, 56% of LGBT students face a harsh school climate. Seventy-one percent of LGBT students have heard the word "gay" used derogatorily, 65% have heard homophobic words like "dyke" or "faggot" and 33% have heard language that demeans trans people and their gender identity.