Hillary Clinton's Campaign Wants Debate to Be Held in Flint, Michigan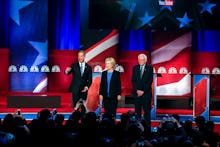 It's nice to see 2016's Democratic presidential candidates agree on something.
Earlier this week, both campaigns entered talks to have more televised debates, even without the Democratic National Committee's explicit sanction. Now, the chair of Hillary Clinton's presidential campaign, John Podesta, has released an official statement calling for the next debate to be held in Flint, Michigan.
Flint is currently experiencing a toxic water crisis caused by lead poisoning in the city's water source. President Barack Obama declared a state of emergency due to the situation in Flint on Jan. 16. 
"The water crisis in Flint is unconscionable," Podesta said. His comments echoed Clinton's own. On Jan. 21, Clinton tweeted out pictures of Flint's water, saying that this would never be tolerated in a "wealthy suburb." Flint Mayor Karen Weaver has also endorsed Hillary Clinton for president, citing Clinton's support during the ongoing water crisis.
Podesta continued, "We should use the spotlight of the presidential campaign to keep the focus on Flint, and to lift up the historic underlying issues that Flint and too many other predominantly low-income communities of color across America are struggling with every day." 
He added the Flint water crisis is a part of the United States' systemic racial injustice, which poses problems for people of color in courts, schools, prison, employment, housing transit and pollution.