Hillary Clinton Scores 'New York Times' Endorsement Just Days Before Iowa Caucus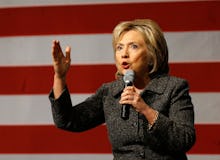 The New York Times has thrown its two cents into the 2016 Democratic presidential primary, endorsing Hillary Clinton for the nomination just days before party members select candidates in Iowa.
In an editorial released Saturday, the Times editorial board wrote Clinton is "one of the most broadly and deeply qualified presidential candidates in modern history."
"Hillary Clinton is the right choice for the Democrats to present a vision for America that is radically different from the one that leading Republican candidates offer — a vision in which middle-class Americans have a real shot at prosperity, women's rights are enhanced, undocumented immigrants are given a chance at legitimacy, international alliances are nurtured and the country is kept safe," the editorial board wrote.
The paper cited her record as a first lady, two-term senator and secretary of state as evidence of her qualifications to hold the nation's highest office.
Clinton's main competitor, fiery "self-described socialist" and Vermont Sen. Bernie Sanders, the paper wrote, "does not have the breadth of experience or policy ideas that Mrs. Clinton offers ... his plans for achieving [the breakup of big banks and universal health care] aren't realistic, while Mrs. Clinton has very good, and achievable, proposals in both areas."
That the Times' endorsement goes to the well-established, centrist candidate in the race should surprise nobody — despite the paper's liberal reputation, it tends to hew more closely to Clinton's pragmatic approach to politics than Sanders' calls for a political revolution. The paper previously endorsed then-Sen. Clinton in 2008 over then-Sen. Barack Obama.
But that endorsement came after several states had already voted and Clinton had already (disastrously) lost Iowa to Obama. This endorsement precedes any votes; as polls show, Sanders is closing in on Clinton's lead. This time around, the Clinton crowd isn't taking any chances, as parodied in a recent Onion headline, "Retreating Clinton Campaign Torches Iowa Town To Slow Advance Of Sanders Volunteers."
It's unclear if the editorial will do much to sway voters. It didn't in 2008. Meanwhile, Sanders is loudly running as the anti-establishment candidate, so whether or not the endorsement of one of the national newspapers friendliest to party elites will hit him where it hurts is an open question.
In another editorial released by the Times on Saturday, the paper endorsed Republican Ohio Gov. John Kasich — who currently ties with Kentucky Sen. Rand Paul for seventh place in an average of national polls kept by Real Clear  Politics.