What Our Obsession With Jaden Smith's Stunning Gender Fluid Photos Says About Us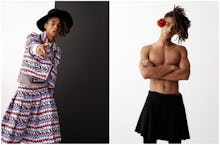 At this point, Jaden Smith may very well be the coolest 17-year-old on the planet. From his solid genetic line to his rad family to his minimalist Instagram and even his weirdly philosophical Twitter account, Smith's persona is that of the ultimate chill teen. 
And a praiseworthy, headline-making, groundbreaking spread for Vogue Korea hasn't hurt either. In the photos, Smith posed shirtless wearing blue nail polish, with a flower tucked behind his ear. Oh yeah, and he was wearing a black pleated skirt. 
Once the images hit the web, Smith was quickly anointed the hunkiest new proponent for blurring — and utterly defying — gender norms.
While some of his 2.6 million Instagram followers were thrown off by the image, asking, "Dude are your nails painted???" more were completely intrigued. As one Instagram commenter mused, "Fuck gender roles, this guy wear a skirt better than me whoops." "When he wears skirts better than you do but forreal tho dayum he's workin it," another Instagram commenter wrote. 
Given his history of embracing womenswear, most of Smith's fans didn't even seem that surprised. Earlier in 2015, Smith wore a dress to prom with his friend Amandla Stenberg; more recently, Smith got a boatload of internet buzz for modeling a skirt in an ad for Louis Vuitton womenswear. 
In those cases too, people were super into it. But this time, reactions were significantly thirstier and more obsessive. Notably, the Vogue Korea spread also included a more clothed photo, with Smith in a more obviously feminine skirt-and-jacket outfit. On Instagram, the shirtless photo has over 116,000 likes; the more clothed one, which shows Smith in a patterned women's jacket, blouse and long skirt, has just over 68,000. 
With his feminine attire, Smith is clearly subverting gender norms, something the public (and especially young people) are increasingly eager to celebrate. But men wearing womenswear isn't exactly new or unique; plenty of male celebrities have donned skirts before. What's special about Smith is his youth and (let's be honest here) his attractiveness, which confer an "edginess" that makes us all the more likely to embrace the photos.
What's special about Smith is his youth and (let's be honest here) his attractiveness.
Take Brad Pitt in 1999, for instance. For an issue of Rolling Stone, Pitt posed in full feminine garb, donning sparkly mini dresses, gloves and exaggerated (and oh so '90s) sunglasses. His body was buff, like Smith's, and he was at the height of his career, fresh off the release of Fight Club.
And the photos really didn't cause much of a stir at all. 
More recently, before Smith became a heartthrob, edgy actor James Franco slipped into some womenswear for a spread in Candy Magazine in 2010, as did Ezra Miller for Paper in 2012. At the time, few people slammed them or made much of a fuss. It was all "This is James being James" and "This is Ezra being Ezra" — young, hot men taking a stab at edginess.
But not all men have received the same praise-filled, or amused, reactions. For rappers like Jay-Z, Young Thug and Kanye West, who have all donned womenswear in the past few years, there was little enthusiasm at all. 
In 2015, Thug graced the cover of Dazed in a dress and admitted to the mag that 90% of his wardrobe was womenswear. But as a rapper who raps explicitly about his sexual conquests with women, Thug seemed to confuse his fans, who were less than receptive. "They make womens clothes, and they make mens clothes. For a reason," one Instagram commenter posted. Another: "I really ain't one to judge but how do you call yourself #youngthug put a tutu on for a photo shoot #smdh shit really #notcool for sure not #hiphop."
The same goes for Kanye West, who, in late 2012, got on stage at Madison Square Garden and performed in a leather Givenchy skirt that was actually quite similar to Smith's. Afterward, West caught heat from human trashbag Chris Brown, who took to Instagram to write, "Can't get wit that swag! N***as gone be wearing heels next!" Rapper Lord Jamar followed with a diss track, all of which led to West wanting the images of him to be taken down from Getty Images. 
Fan and media reactions to Smith mark a noteworthy shift in at least one sense. As a young black man, Smith might have faced the same critiques as West or Thug in the past. "While white male celebrities have wandered outside the socialized gender binary and been accepted for their eccentricity, black men have constantly been placed in the 'hyper-masculinity' column," Danielle Moodie-Mills wrote for NBC News. "If they strayed too far from what was considered 'normal black man behavior' they were either labeled gay or 'trying to be white'" — an unfair limitation that Smith seems to have mostly transcended.
But he still has the benefit, as Brad Pitt did, of being young, good-looking and hard-bodied. He's edgy, hanging among progressive young pals like Amandla Stenberg and Lily-Rose Depp (both of whom recently came out as queer to mostly positive responses). He's famous, which has historically provided protection for coming out or rejecting gender norms that the average Joe, Jane and everyone in between isn't necessarily afforded. 
And he's beautiful, making him not just a gender fluid trailblazer, but our gender fluid bae.
Still, our embrace of Smith is undeniably a step in a more accepting direction to loosening up the gender norms that govern our wardrobes and so much else in our lives. With Smith as an example, hopefully it'll soon be cool for any dude to slip into a skirt — whether he looks like a model or not — and be cheered for it.
Get the five stories that will challenge you to rethink the world by signing up for MicCheck Daily.