Hillary Clinton Maintains Slim Lead Over Bernie Sanders in Last Poll Before Iowa Caucuses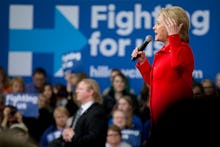 With the Iowa caucuses just two days away, Hillary Clinton holds a slight edge over Sen. Bernie Sanders (I-Vt.), according to the latest Bloomberg Politics/Des Moines Register survey of the Hawkeye State, the last poll before Monday's contests.
The survey, conducted by renowned pollster Ann Selzer, finds Clinton leading Sanders 45% to 42%, with former Maryland Gov. Martin O'Malley trailing at 3%. Earlier this month, the Bloomberg/DMR poll showed Clinton at 42%, Sanders at 40% and O'Malley at 4%.
Inside the poll: While the poll suggests that Sanders has ground to make up ahead of Monday's caucuses, his campaign celebrated the poll result in a statement Saturday night. 
"Our campaign has come a very long way in eight months. In late May, according to the Register/Bloomberg poll, we were down by 41 points. Today we are virtually tied. The momentum is with us," Sanders campaign manager Jeff Weaver said.
Weaver added that Sanders' success will hinge on high turnout, but while Sanders leads decisively among those who say they will be attending their first caucuses, the poll indicates he won't be driving the record turnout that then-Sen. Barack Obama (D-Ill.) did in 2008. About a third of likely caucusgoers said they were first-timers, while the figure was 60% eight years ago.
In another cautionary sign for Sanders, his backers appear less firm than Clinton's in their support. While 83% of Clinton supporters said their decision was final, only 69% of Sanders backers said the same.
Still, Sanders boasts an advantage over Clinton on the crucial question of which candidate caucusgoers thinks cares the most about people like themselves. Fifty-one percent picked Sanders on that score, while 37% named Clinton. Moreover, 68% of Iowa Democrats said they were fine with nominating a self-described socialist for president.
But Clinton heads into Monday with key advantages of her own. Eighty percent of respondents said it was time to elect a woman president, and slightly more Democrats, 73%, said they'd be enthusiastic to see Clinton as the nominee than said the same for Sanders (69%). 
Notably, there's a large generational divide among female voters. Those under 45 back Sanders 48% to 33%, while those older than that break for Clinton 55% to 32%.
The O'Malley factor: Given the thin margin separating Clinton from Sanders, a key question is what O'Malley's supporters will do at caucus sites where he doesn't clear the 15% "viability" threshold. 
Supporters of such candidates are required to reallocate to other contenders, and recent polling suggests most of O'Malley's support would accrue to Sanders. A Public Policy Polling survey released Friday found that 57% of O'Malley backers considered Sanders their second choice, while only 27% named Clinton as their Plan B; if O'Malley's supporters break for Sanders at similar levels on Monday night, that will help the senator narrow the gap.
So, get ready. It could be a long night.