Donald Trump Boasts Small Lead Over Ted Cruz in Crucial Iowa Poll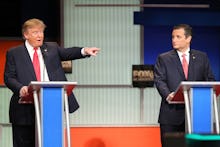 Iowa is no longer running on Cruz control.
The final Bloomberg Politics/Des Moines Register poll before Monday's caucuses finds that Sen. Ted Cruz of Texas has lost his lead among Iowa Republicans to businessman Donald Trump, while an ascendant Sen. Marco Rubio of Florida is within single digits of his fellow Cuban-American senator.
Trump's lead in the poll is small. He garners 28% support, followed by Cruz at 23%, Rubio at 15% and retired neurosurgeon Ben Carson at 10%. But it's a notable shift from earlier this month, when the Bloomberg/DMR poll gave Cruz a 25% to 22% lead over Trump, followed by Rubio at 12% and Carson at 7%.
Besides Sen. Rand Paul of Kentucky, no other candidate in the latest poll hit 5% support.
The state of the race: Despite persistent doubts about the durability of Trump's support, the poll finds that his supporters are the most committed among the leading candidates. Seventy-one percent of Trump backers said their minds are firmly made up, while only 61% of Cruz supporters and 47% of Rubio voters said the same.
Trump bests Cruz on several key metrics, including electability (35% to 24%), who would instill fear in the United States' enemies (50% to 21%) and who would bring strong leadership to the Oval Office (32% to 23%).
In another encouraging sign for Trump, 40% of likely caucusgoers said Monday's caucuses would be their first. Only 27% said the same in the final poll before the 2012 caucuses, Bloomberg noted.
The poll suggests that Trump's withering attacks on Cruz — over his Canadian birth, his opposition to federal ethanol mandates and his unreported loans from Goldman Sachs — have done a number on the senator's image. While the Bloomberg/DMR poll found earlier this month that 76% of likely GOP caucusgoers viewed Cruz favorably and only 19% saw him unfavorably, those figures are now 65% and 28%, respectively. 
Trump's favorability stands at 50%, while 47% view him unfavorably, underscoring how he has polarized the GOP electorate.
Though a Cruz victory remains plausible — lower-than-expected turnout would be a boon to his campaign — the new poll adds to a growing sense that he's on a downhill slide in Iowa. While Cruz vaulted into the lead in December, Trump has regained control of the race in recent surveys, leading in 9 of the last 10 polls, according to RealClearPolitics' database.
Just weeks after he was widely seen as the prohibitive favorite in Iowa, Cruz now appears concerned about the possibility that Rubio could upset him for second place. On Friday, the New York Times reported that Cruz has redirected all remaining negative ads in Iowa to focus on Rubio, rather than the billionaire businessman who leads the polls.