Judge Sentences Man Convicted of Downloading Child Porn to Just 5 Days in Jail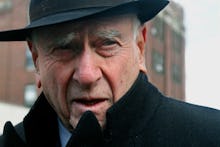 A judge in Brooklyn, New York, stunned legal observers by sentencing a 53-year-old father of five found guilty of possessing child pornography to just five days in prison, plus seven years of supervision and a fine, NBC News reports.
In a 98-page decision, U.S. District Judge Jack Weinstein argued he bypassed federal sentencing guidelines because they did not distinguish between offenders who posed a threat to others and those who did not.
"Removing [the defendant] from his family will not further the interests of justice," wrote Weinstein, according to NBC. "It will cause serious harm to his young children by depriving them of a loving father and role model and will strip ]the defendant] of the opportunity to heal through continued sustained treatment and the support of his close family."
The defendant, who NBC reports was found in possession of two dozen videos and photos of the sexual assault of girls as young as 3 years old, told the network, "I just got caught up in it. It's not like I woke up and said, 'Listen, let me look at this stuff.'"
Under the federal sentencing guidelines, Weinstein could have sentenced the defendant to up to 10 years in prison.
He's not the only judge who feels a long prison term is an inappropriate sentence for the crime. The New York Times reports that in 2008, more than half of all child pornography convictions resulted in a sentence below the recommended range. 
But "viewing has a market-creation effect," Paul Cassel, former judge and University of Utah legal professor, told NBC. "It ends up leading inexorably to the rape of children."
The New York Post notes that in 2011, "the U.S. Court of Appeals ordered Weinstein to impose the mandatory minimum sentence of five years to a man convicted of distributing kiddie porn."
h/t NBC