Susan Sarandon Shows Cleavage, Rejects Donald Trump, Has An Overall Really Great Week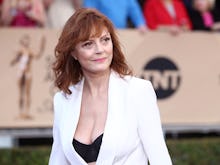 John Salangsang/AP
Susan Sarandon is having a moment. The actress has been rallying behind Vermont Sen. Bernie Sanders' presidential campaign, photobombing the cast of Straight Outta Compton and even showing off a little cleavage along the way.
The 69-year-old attended Saturday night's 22nd annual Screen Actors Guild Awards donning a white Max Mara power suit with a plunging neckline which exposed her black bra. Sarandon tweeted a picture of the sleek outfit, writing, "Had a wonderful time at the #SAGAwards last night. Thanks @MaxMara for the gorgeous power suit!"
Not one to shy away from a camera, Sarandon also lit the internet on fire at Saturday night's red carpet in Los Angeles with an epic photobomb with the boys from Straight Outta Compton. Sarandon can be seen just behind the five stars of the film, who appear to be completely unaware of her jumping into the picture. 
In fact, Sarandon's flawless photo bomb was arguably one of the most talked about moments from the SAG awards red carpet, only preceded by the actresses' flawless outfit:
Even fellow celebrities noticed Sarandon's cleavage, including actress Kate Winslet:
Sarandon was taking a break from supporting Sanders in Iowa to pay tribute to her friend and fellow entertainer, David Bowie, at Saturday night's SAG Awards, as well as other performers who passed away throughout 2015 and 2016. SAG Awards, as well as other performers who passed away throughout 2015 and 2016. 
Read more:
According to her Twitter, the actress has been engaged in just about every aspect of Sanders' presidential campaign recently, speaking at multiple events in Iowa ahead of the upcoming Democratic Caucus, volunteering at phone call banks and even scheduling meetings with some of the Black Lives Matter movement's most influential leaders, including DeRay McKesson.
Sarandon also recently spoke with The Young Turks about Republican presidential frontrunner, billionaire Donald Trump. "He reminds me of like your drunk uncle at a wedding, who gets up and starts talking and just loves the crowd," she said.
"I can't even address him seriously," Sarandon continues. "I mean, he doesn't even have a consistency or any kind of rational, anything."
"He's made hatred and racism normal," she said.