Donald Trump's Hollywood Walk of Fame Star Defaced With Swastika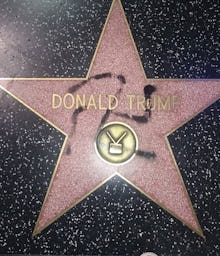 Imgur
The graffiti artists of Hollywood Boulevard call it like they see it, apparently. Over the weekend, a photo surfaced on Reddit showing Donald Trump's star on the Walk of Fame, defaced with a backwards swastika spray-painted over his name. 
Read more:
This isn't the first vandalism incident for the reality-TV-star-turned-presidential-candidate's star. In September, someone marked a big yellow X across it, and as one Batman impersonator of Hollywood Boulevard told The Wrap, the star is a popular site for people looking to vent their Trump frustrations. But while the actor had seen people "stomping or pretending to defecate on the star," the Nazi symbolism goes farther than most any other example of defacement on the Walk of Fame.
"I've never seen this kind of hate put on a star before, not even Bill Cosby," he said. 
Cosby's star was vandalized in December 2014, the word "rapist" written over the actor's name. Many have called for its removal in the wake of the many sexual assault allegations made against Cosby in the past year, but as a rule, the Hollywood Chamber of Commerce never takes a star off the walk once they've issued it. 
Trump received his star in 2007 for his television show, which "amplified" the celebrity standing he'd built upon his "extravagant lifestyle and outspoken manner," according to his profile on the Walk of Fame site. Extravagant and outspoken — two qualifying traits for both immortality on Hollywood Boulevard and the U.S. presidency, apparently.