Here Are The Winners From The 2016 Sundance Film Festival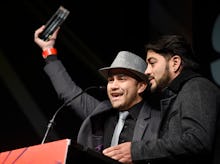 Chris Pizzello/AP
The 2016 Sundance Film Festival has come to an end. With the success of slave-revolt film The Birth of a Nation –which sold to Fox Searchlight in a historic deal for $17.5 million – and breakout performances from Tika Sumpter as First Lady Michelle Obama in Southside With You and Charlie Heaton as emerging teen Mark in As You Are, it is safe to say that the film festival was a success.
Sundance held several competitions, including U.S. Dramatic, U.S. Documentary, World Dramatic, World Documentary and Shorts.
Unsurprisingly, Nate Parker's depiction of 1831 slave rebellion leader Nat Turner won the U.S. Grand Jury Prize for a narrative film and won the Audience Award for U.S. Dramatic. "Thank you Lord, thank you Sundance," Parker said when accepting the awards, according to Deadline. "I've seen first-hand that people are open to the idea of change, and the fact that this is happening means everything to me."
Read more:
Weiner, the film depicting the sexting scandal and downfall of former U.S. Representative Anthony Weiner, won the U.S. documentary grand prize. "We didn't know this would happen and it's incredible. Being around all you filmmakers is heartwarming," Weiner director Elyse Steinberg said, according to the Sundance official live blog. "To all the supporters out there...and Sundance institute. There have been so many people who supported this film."
 The film was directed by Steinberg and Josh Kriegman. 
Roger Ross Williams, the director of Life, Animated, a documentary about an autistic man who memorized Disney animated movies in order to communicate after years of silence, won a directing award at Sundance.
"Alright, I'm overwhelmed. You know in the age of #OscarSoWhite and lack of diversity in Hollywood, I want to thank the Institute for thinking of artists like me," Williams, the first African-American director to win an Oscar in 2010, said while accepting the award. "You [are] never directing [in] a vacuum so I want to thank my producer, my editor...everyone who worked on this film. Owen Suskind is an amazing individual. He taught me that people with autism have so much to teach the world. Thank you so much."
Women ran away with the World Cinema category, with Israeli director Elite Zexer winning the dramatic grand jury award for Sand Storm, Polish director Agnieszka Smoczynska winning the Special Jury Award for Unique Vision and Design for The Lure and Iranian director Rokhsareh Ghaem Maghami winning the documentary grand jury award for Sonita.
"The award was when I started working with Sonita every day. She awarded me with emotion," Ghaem Maghami said during her acceptance speech. "She was the daughter I never had. It's great to be at Sundance. We are so happy. Thank you so much."
Below is the full list of the Sundance winners, according to ABC News.
U.S. DRAMATIC
Audience Award
Grand Jury Prize
Directing
Waldo Salt Screenwriting Award
Special Jury Award – Individual Performance
Special Jury Award – Individual Performance
Special Jury Award – Breakthrough Performance
Special Jury Award
U.S. DOCUMENTARY
Grand Jury Prize
Audience Award
Directing
Special Jury Award – Vérité Filmmaking
Special Jury Award – Writing
Special Jury Award – Social Impact Filmmaking
NEXT Audience Award
WORLD CINEMA DRAMATIC
Audience Award
Grand Jury Prize
Directing Award
Special Jury Award – Unique Vision and Design
Special Jury Award – Screenwriting
Special Jury Award – Acting
WORLD CINEMA DOCUMENTARY
Grand Jury Prize
Directing
Special Jury Award – Best Editing
Special Jury Award – Best Cinematography
Special Jury Award – Best Debut Feature
Alfred P. Sloan Feature Film Prize
SHORT FILM PRIZES
Short Film Grand Jury Prize
Short Film Jury Award: U.S. Fiction
Short Film Jury Award: International Fiction
Short Film Jury Award: Non-fiction
Short Film Jury Award: Animation
Short Film Special Jury Award for Outstanding Performance
Short Film Special Jury Award for Best Direction