'Sound & Color' Is Alabama Shakes' Grammy-Nominated Second Album — Will It Win?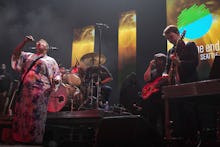 Mat Hayward/Getty Images
Sound & Color is the second album from Southern soul-R&B-rock-hybrid outfit Alabama Shakes, which earned the group their first Grammy nomination — for album of the year, no less. Singer and guitarist Brittany Howard, guitarist Heath Fogg, bassist Zac Cockrell and drummer Steve Johnson released Sound & Color in April 2015 to widespread critical acclaim.
"Alabama Shakes sound like a million bands in one on Sound & Color, and none of them sound safe or formulaic in the slightest," Mic's Tom Barnes wrote. "Their future and the future of American blues are brighter than they've been in years."
"This is a weirder, woozier, fiercer and sexier record than their debut in nearly every way," Rolling Stone's Will Hermes said of Sound & Color.
Read more:
"Three years in the making, [Sound & Color] is something else altogether, a record with expanded, kaleidoscopic horizons," Kitty Empire of the Guardian said. "So long compared to singers such as Etta James and Janis Joplin, Howard is now channeling Curtis Mayfield, Prince, Marvin Gaye and Erykah Badu."
Alongside country music songwriter Chris Stapleton, Alabama Shakes help to balance out the pop-heavy album of the year category, in which Kendrick Lamar, Taylor Swift and The Weeknd are also nominated. But will they win? It's wouldn't be unprecedented. Beck took home this award in 2015 with Morning Phase, an album whose songs would have made an uncomfortable fit on the Hot 100. 
Sound & Color came out at the top of the Billboard 200 chart on May 9. And as Troy Smith at Cleveland.com points out, it's the only album of the year nominee to garner an additional nod for best engineered album; Sound & Color and Stapleton's Traveller are the only two from the category to win nominations for producer of the year (the award, if Sound & Color wins, would go to Blake Mills). It did not, however, get any love in the record of the year or song of the year categories. 
Who did? Taylor Swift in both cases; Kendrick Lamar's "Alright" was nominated for song of the year and The Weeknd's "Can't Feel My Face," for record of the year. It's a tight race — no matter the outcome, though, the masterful sophomore release has established Alabama Shakes as a group with definite staying power.