David Bowie Rejected Collaboration Offers From the Red Hot Chili Peppers on Repeat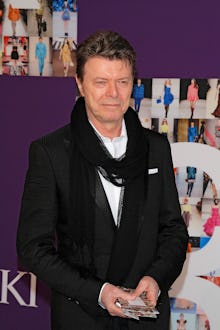 Randy Brooke/Getty Images
Take comfort, Coldplay — it's not just you. As Alternative Nation, reported David Bowie also rejected collaboration offers from the Red Hot Chili Peppers, many times over. On Jan. 26, frontman Anthony Kiedis talked Bowie snubs on Jonesy's Jukebox, a radio show hosted by Steve Jones of The Sex Pistols.
"Every record we ever made, we had the band discussion," Kiedis said. "'Who should we get to produce this record?' 'I don't know, we have to try someone new!' 'Let's get David Bowie!'"
Read more:
And every time, apparently, the Picasso of pop politely refused.
"So in the beginning we would call him, and he would say no, respectfully," Kiedis continued. "Then later we would write long e-mails explaining everything, and why it was time for us to really get our ships on, and he always respectfully declined."
In total, Bowie turned down the Red Hot Chili Peppers twice or thrice, Kiedis said: when the band asked him to produce By the Way (2002) and Stadium Arcadium (2006). Roxy Music's Brian Eno — Bowie's friend and collaborator on his trio of Berlin albums, Low (1997), Heroes (1977) and Lodger (1979) — denied the Chili Peppers eight times. One must admire both the band's perseverance and the rock 'n' roll chameleon's commitment to particular standards.
Following Bowie's death on Jan. 11, Coldplay drummer Will Champion told NME that the band once approached the musical icon about a possible collaboration. Frontman Chris Martin sent Bowie a written invitation to work with them on a track, an invitation that Bowie declined, saying, "It's not a very good song, is it?" 
So, not a respectful no, per se, but — the bandmates thought — a respectfully frank one.
"He was very discerning — he wouldn't just put his name to anything," Champion said. "I'll give him credit for that!"