"Summer Sixteen" Lyrics: Meaning Behind Drake's New Single Off 'Views From The 6"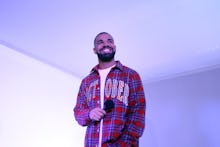 Cole Burston/Getty Images
There is a hell of a lot going on with Drake's new single, "Summer Sixteen." Not only is it the first release from the Canadian rapper's forthcoming album, Views From The Six, but Drizzy doesn't hold back in what could be called a multi-diss track, aiming at several fellow artists. The song is available for download on iTunes.
Surprisingly, Philadelphia rapper Meek Mill responded with his new diss track, "War Pain," within minutes, claiming he was given Drake's lyrics for "Summer Sixteen" from a ghost writer before the song was released on Beats 1 OVO Sound Radio Saturday night.
Read more:
The song was produced by Noah "40" Shebib, Boi-1da, Brian Bennett and Cubeatz. Below are just some of the lyrics, provided by Genius:
"To do what you couldn't do / Tell Obama that my verses are just like the whips that he in, they bulletproof / That Kai's kitchen in a Canada Goose / Famous as fuck but I'm still in the cut when they round up the troops / I'm just a sick, a real sicko, when you get to know me nigga / I let the diss record drop, you was staying right below me nigga."
The artist is likely referencing Meek Mill in his first verse (above), as the two exchanged salty messages in a Twitter feud during the summer of 2015, which seemed to have ended after both rappers released a series of diss tracks toward each other. However, 2016 came and Meek Mill felt it necessary to once again bring up old beef. His latest mixtape is dropping imminently, and the rapper has been firing off at Drake in multiple releases, as fans are pleading for Meek Mill to simply let it go. 
What's interesting, though, is one line in Meek Mill's brand new single, released minutes after Drake's "Summer Sixteen": "And you claimin' you HOV [Jay Z] now? Why you state that shit?" 
Here are Drake's lyrics in which he references hip-hop mogul Jay Z in his latest single:
"'Oh it's your time now,' that's what everybody say / I used to wanna be on Roc-A-Fella then I turned into Jay / Now I got a house in LA, now I got a bigger pool than Ye / And look man, Ye's pool is nice, mine's just big what I'm saying."
Could Meek Mill possibly have been tipped off as to what Drake's new lyrics were before the song was released? Or, could the rapper have been waiting for Drake to release a new song so he could attack him and get his name, as well as the forthcoming Dreamchasers 4, in the spotlight? It's all a mystery.
The artist also manages to find a moment to shout out his hometown Toronto, as well as fellow rapper Lil Wayne:
"I'm that nigga's what I'm saying / Getting things done around here, how you let me run it down here / I'm not even from around here, six, six, six, six, six soon as I'm back in the city they throw a parade / I might get a key to the city and give it to Wayne / Or give it to one of the young boys to carry the wave / Yeah, so trust me, they'll be out here."