Trailing Trump, Ted Cruz Campaign Mails Iowans "Voter Violation" Warnings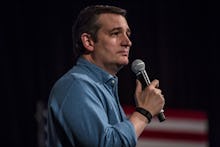 A top Iowa official condemned Republican Texas Sen. Ted Cruz on Sunday for a letter his campaign sent voters across the state as part of a get-out-the-vote effort in the days leading up to Monday's Iowa presidential primary caucuses, saying his campaign went too far.
Cruz's mailer, which appears designed to mimic a government document, says "ELECTION ALERT: VOTER VIOLATION," "PUBLIC RECORD" and "FURTHER ACTION NEEDED," reports CNN. It also assigns voters letter grades according to their public voting history, and warns that their neighbors can see whether or not they vote.
Republican Paul Pate Jr., Iowa's secretary of state, harshly criticized Cruz's campaign for what he called an attempt to trick voters into thinking lack of participation in Monday's caucuses could come with official consequences.
Pate told CNN in a statement, "Today I was shown a piece of literature from the Cruz for President campaign that misrepresents the role of my office, and worse, misrepresents Iowa election law ... Accusing citizens of Iowa of a 'voting violation' based on Iowa Caucus participation, or lack thereof, is false representation of an official act."
Pate told CNN the state would never grade voters.
According to the Washington Post, such mailers are not uncommon — Democratic political consultant Hal Malchow found that mailers warning neighbors can see each other's voting histories, a tactic often referred to as vote-shaming, can raise turnout by up to 2.5%, the paper reported.
Indeed, Florida Sen. Marco Rubio sent out a similar letter, albeit with a less intense tone.
But the Cruz letter's resemblance to an official document was too much for fellow candidate and Kentucky Sen. Rand Paul, who criticized Cruz on Twitter as a "career politician."
Cruz says he will "apologize to nobody for using every tool we can to encourage Iowa voters to come out and vote," according to the New York Times.
The Texas senator needs a strong showing in Iowa to prove his viability as a presidential candidate, but is currently trailing frontrunner and real-estate billionaire Donald Trump by six points in the state, according to an average of polls kept by Real Clear Politics.
h/t IJReview