2016 Election Odds Heading Into Monday's Iowa Caucus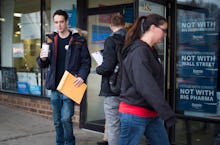 JIM WATSON/Getty Images
With the New York Times' recent endorsement of Democratic presidential candidate Hillary Clinton and Republican presidential candidate Donald Trump leading in the Iowa polls, the Iowa Caucuses are shaping up to be a close battle. 
The 2016 Iowa Caucuses are slated for Feb. 1, and voters will meet in over 1,500 precincts throughout Iowa, starting at 8 p.m EST. NBC News polling has Clinton and Trump leading their respective races, although Vermont Sen. Bernie Sanders is shown creeping up on Clinton. 
Another Iowa poll says Trump may receive the support of 28% of the Iowa Caucus participants, with Texas Sen. Ted Cruz on his heels at 23%, and Florida Sen. Marco Rubio at 15%. The Iowa poll was published Saturday by Bloomberg Politics/Des Moines Register. It's the first time Trump has led this poll since August, pollsters told CBS News. 
"Trump is leading with both the inner core of the caucus universe and the fringe—that's what any candidate would want," J. Ann Selzer, Iowa pollster who led the survey, told Bloomberg.
Read more:
The poll lists Clinton at 45% narrowly over Sanders' 42%. Former Maryland Gov. Martin O'Malley is at 3% among likely caucus-goers. According to Des Moines Register, both leading candidates have seen an increase in support among voters, with Clinton up by three percentage points and Sanders up by two.
"This race is as tight as can be," David Axelrod, a national political strategist, told the Register. "If Bernie Sanders had momentum headed into the final month, the race now is static and essentially tied."
Although the Iowa Caucus is not always the determining factor in who will be the country's next president, a strong showing from Trump in Iowa could help ensure his chances of becoming the Republican nominee. Trump is also leading in the polls in New Hampshire, where the country's first presidential primary will take place days later.
Iowa is such a crucial point in the nomination calendar, all of the presidential hopefuls have spent hours, days, weeks and months traveling in and out of the state. Iowans will take to the caucuses around the state to discuss the election.
"I tell people the purpose of the Iowa caucuses is to winnow the field," Tim Hagle, political science professor at the University of Iowa told TODAY. "Or another phrase I use is 'to separate the contenders from the pretenders' — the people who are serious candidates from those who aren't. In that sense, Iowa does a pretty good job."