Vanessa Hudgens' Father Dies Day Before Actress Is Set to Perform in 'Grease: Live'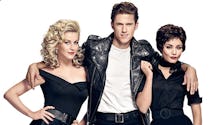 Mic/Twitter
In Hollywood, a famous saying has been used by some of the greatest talents before their most astounding performances: "The show must go on." Vanessa Hudgens understands the power of this message, after painfully announcing her father's death the night before her live performance in Grease: Live on Fox.
"I am so sad to say that night my daddy, Greg passed away from stage 4 cancer," 27-year-old Hudgens tweeted Sunday, the day of her performance. "Thank you to everyone who kept him in your prayers. Tonight, I do the show in his honor."
Hudgens will play Rizzo, the saucy and outspoken leader of the Pink Ladies. Hudgens will star alongside Keke Palmer and Carly Rae Jepsen, with Julianne Hough starring as Sandy and Aaron Tveit as Danny. 
"Last year, my boyfriend, Austin, lost his mom, Lori, to cancer, and my dad has just been recently diagnosed with stage four cancer," Hudgens said in August as she accepted an award for breakthrough performer at the Industry Dance Awards, where proceeds were being donated to a charity for cancer survivors in the dance industry. "Let me tell you, I hate cancer. I hate cancer with every cell of my being. This award, it means a lot to me but I dedicate it to my boyfriend's mom, Lori, my dad, and to all the families out there who are struggling with this, because it really takes a strong person and a strong family to be able to help those out who are going through this."
Read more:
° This 25-Year-Old Model Battling Cancer Is Proving Just How Beautiful Bald Can Be
Fans and Twitter users alike complimented Hudgens for deciding to continue with her performance, calling her brave, a "spirit animal" and an inspiration, among other things. 
Grease: Live airs Sunday night on Fox at 7 p.m. Eastern.