German Police Say Claims Refugees Gang-Raped Girl in Berlin Made Up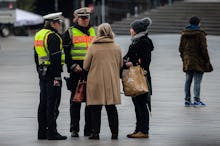 German police say a 13-year-old Russian-German girl has admitted to fabricating a story that she was raped by a group of Middle Eastern or North African men, reports the Guardian.
After the girl, identified only as Lisa, disappeared for 30 hours from her home in Berlin and returned with facial injuries on Jan. 11, she said she had been repeatedly raped. State prosecutors say the girl later told a team of specialists she invented the story to avoid getting in trouble.
As over 1.1 million migrants arrived in Germany in 2015 as part of the ongoing European refugee crisis, and many Germans were already infuriated by reports of widespread sexual assaults by men matching that description on New Year's Eve in the city of Cologne, the new accusations were like a match to a powder keg.
According to BBC, when German police concluded there was no physical evidence to back the girl's accusations, thousands of Russian residents of Germany took to the streets in protest over a perceived coverup. They waved banners saying "Our children are in danger" and "Hands off my child," the BBC reported.
Russian state media and Foreign Minister Sergey Lavrov further inflamed tensions by repeatedly accusing German authorities of getting the case wrong. Lavrov continues to demand an explanation.
"I hope that these problems are not swept under the carpet and that there'll be no repeat cases like that of our Lisa." Lavrov told a press conference, according to the BBC.
The Guardian reported the protests were also joined by far-right German political parties, including the fringe National Democratic Party.
Many of the migrants come from war-torn nations like Syria, Iraq and Afghanistan, while others are fleeing chronic poverty in home countries as far as Pakistan.
In recent months, Germany has been plagued by violent anti-refugee demonstrations involving hundreds of participants — a sore counterpoint to the mood in September, when hundreds of Germans met thousands of arriving refugees with supplies, hugs and words of welcome. Anti-refugee groups say the German state cannot provide enough for the migrants (even though expenditures on them comprise less than 1% of the national budget), and perhaps more tellingly, that German society cannot withstand the influx of foreigners.
A poll by broadcaster ZDF this month found 60% of Germans believe the current immigration situation is untenable, according to NBC.
False claims of rape are rare. In the U.S., Mic's Sophie Kleeman writes, "it's estimated that 2% to 8% of rape claims are later proven false, according to the National Sexual Violence Resource Center. That's about the same as the false reporting rate for other crimes, such as car theft or stalking."