Virginia Tech Track Star Charged With Kidnapping/Murder of 13-Year-Old Girl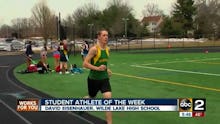 Police in Blacksburg, Virginia, have arrested 18-year-old David Eisenhauer, a Virginia Tech freshman and cross-country team member, and charged him with the first-degree murder of 13-year-old Blacksburg girl Nicole Madison Lovell, the Roanoke Times reports.
According to the paper, authorities took Eisenhauer into custody on Saturday morning on a felony count of abduction and later charged him with murder following the discovery of Lovell's body in North Carolina. Lovell had been missing for four days; a cause of death has not been determined.
WSLS reports police have additionally arrested 19-year-old Virginia Tech sophomore Natalie Marie Keepers and charged her with one felony count of improper disposal of a body, as well as a misdemeanor for accessory after the fact in the commission of a felony.
"The devastating loss of a young member of our Blacksburg community, Nicole Madison Lovell, along with the investigation of a Virginia Tech student in connection with the case, has everyone in a state of shock and sadness," Virginia Tech President Tim Sands said in a statement. "Speaking on behalf of our community, let me say that our hearts go out to Nicole's family and friends."
Eisenhauer was an accomplished runner. Bleacher Report notes he "won the 1,600- and 3,200-meter runs at the 2015 Maryland Indoor State Championships," as well as "the 3,200-meter run at the 2014 Outdoor State Championships."
In 2015, Eisenhauer was profiled by the Baltimore Sun after he was named the Howard County Times/Columbia Flier Indoor Track Athlete of the Year.
"I've always been one to shoot for records to get your name on some book that will have a lasting impact," he told the Sun.
h/t Deadspin