2016 #Pokemon20 Pokémon Super Bowl Commercial Reveals Clues About New Game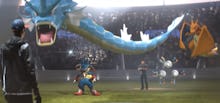 Mic/YouTube
It looks as though Pokémon are crashing the 2016 Super Bowl. In a video recently uploaded to YouTube by the global phenomena, the legendary classics like Charizard, Gyarados and Magnetron are shown in a battlefield with their real-life masters interspersed in virtual reality.
Pokémon is celebrating 20 years of being a household name ever since it exploded within international markets in 1996. The commercial directs viewers to a new webpage the franchise created, along with the #Pokemon20 hashtag.
Fans can upload their favorite images with Pokémon gear and use the hashtag #Pokemon20 to get featured on the website, as well as potentially receive surprises.
The company is also celebrating it's 20th anniversary with a dope new Nintendo 3DS (Charizard version is a personal favorite), and could possibly be gifting the new high-tech gear to fans with the best snaps.
The Pokémon Twitter page also tweeted the commercial, which will also air during the Super Bowl on Feb. 7 at 6:30 p.m. EST on CBS. "Get a first look at our #Pokemon20 Super Bowl spot," the franchise wrote to fans, "and tell us how you plan to #TrainOn in 2016!" 
Pokémon has seen major transitions throughout its history as a major entertainment and media corporation, originally producing games for Gameboys. Now, Pokémon features a plethora of new characters in three dimensional worlds original gamers could only dream of. And it looks like 2016 is going to be an even more futuristic world for Pokémon fans.
Check out the Pokémon 2016 Super Bowl spot below: