Boko Haram Kills 86 in Raid on Villages and Refugee Camps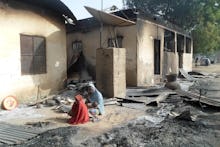 At least 86 people died on Saturday night after members of the militant group Boko Haram attacked the northeastern Nigerian town of Dalori and two nearby refugee camps housing 25,000 people, reports the Associated Press.
A team of attackers assaulted the village and camps with guns and explosives for four hours, survivor Alamin Bakura told the AP. As Bakura hid in a hollowed out tree trunk, he says he heard the screams of children burning to death.
According to the AP, the attack continued as three more members of the terrorist group attacked survivors in the nearby village of Gamori. Agence France-Presse cited a lower death toll of 50 from the attacks.
Warning: The photos below contain graphic material.
"We had just finished evening prayers when the gunmen came to our village and indiscriminately opened fire and setting fire to homes," local Kulo Sheriff told CNN. "They detonated two bombs, which added to our fright and confusion. Everybody fled into the bush from where we saw our homes burning."
Boko Haram began as a movement calling for Nigeria to adopt Sharia law in 2001, but in the ensuing years turned into a violent extremist insurgency that has claimed 20,000 lives and displaced 2.5 million people, reports the AP. It has launched additional attacks in Chad, Cameroon and Niger, and is allied with the Islamic State group.
Last year, Boko Haram was dubbed the world's deadliest terrorist organization by the Institute of Economics & Peace, which released a report saying the group was responsible for 6,664 deaths in 2014. Attacks by the group have displaced more than 1.4 million children, according to the U.N. Militants in the group infamously use young children as suicide bombers.
Nigerian military forces have had success reclaiming territory from the group, but Boko Haram has responded by increasing their attacks on civilian targets. The Long War Journal's Laura Grossman argues the loss of territory has hurt Boko Haram, but not brought the Nigerian government much closer to a final victory.