Rihanna and Drake Have Dropped New Music — Frank Ocean, Where Is Your New Album?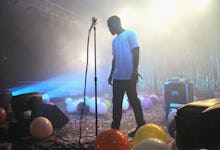 FilmMagic/Getty Images
2016 is off to a magnificent start in the music industry, with Rihanna, Zayn Malik, Kanye West, Drake and plenty others touting new music either on its way or already having gone platinum. However, one man continues to defy all odds, remaining an obscure and ever-fading star in the R&B limelight: Frank Ocean.
To be frank, we're all getting quite tired of this. At least with Rihanna's eighth studio album Anti, there was the exhaustive #ANTIdiaRy marketing campaign, which featured virtual reality rooms and led fans through a confusing maze before RiRi decided to drop her rebellious new album.
Fans, whom have long been awaiting new music from several major artists including Frank Ocean, saw many surprise releases at the turn of the new year, with Rihanna's Anti selling over a million downloads in less than 14 hours and being labeled as a platinum record by the Recording Industry Association of America. Drake released "Summer Sixteen" on his Beats 1 OVO Radio Sound program Saturday night, firing new shots at Meek Mill and reigniting a 2015 summer feud between the two rappers — much to Mill's amusement.
Read more:
Meanwhile, Kanye West has been touting the recently changed album title Waves to promote his upcoming studio album, as well as set Twitter on fire with his first social media war with another rapper.
However, Ocean remains completely silent, and fans have been growing tired for years: