Meet the Young People Who Stormed Iowa to Campaign for Republicans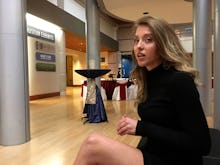 WEST DES MOINES, Iowa — Jerry Dunleavy thinks Ted Cruz is the next Ronald Reagan.
He's so convinced of it, in fact, that he quit his job, left his friends and family behind and headed to Iowa, where he works around the clock — for free — to help Cruz's campaign for the presidency.
"I've never really volunteered for any campaign before, let alone a presidential campaign," Dunleavy, a 28-year-old from Ohio, told Mic on Sunday during a break from his work at the Cruz volunteer center in Urbandale. 
"Ted Cruz is definitely a different kind of candidate. Everything he said he would stand for, he stood for," said Dunleavy, who pointed to Cruz's commitment to "smart and strong national security," plus his "belief in the value of human life" and support for the Second Amendment as the traits that drew him to the Texas senator.
"It's very rare to have an honest politician — kind of an oxymoron," said Dunleavy, a former child support enforcement agent who's still paying for his empty apartment back home. Cruz, he said, is "kind of the exception to the rule, and that's why I dropped everything to come help him."
Iowans caucus Monday in the first official measure of the candidates fighting for the Republican (and Democratic) presidential nominations.
"I'm a full-hearted conservative, 100%, and I'm never going to waver from that."
The historic and oft-volatile contest has spurred legions of young men and women to put their lives on hold and flock to the Hawkeye State to help propel their picks to the White House — and experience the excitement of seeing a presidential bid from the inside.
Persuasion and pizza: During a standard 12-hour day, Dunleavy and his compatriots have been using their powers of persuasion to extract promises of support for Cruz from Iowans, going door-to-door in sun and snow or working phone lists at a volunteer center like the one just outside Des Moines. 
At night, they hunker down at "Camp Cruz," the campaign's dorm-style crash setup.
On Sunday, the room buzzed with activity. Laptop keys ticked. A South Korean news crew made the rounds. Selfies were shot against the backdrop of a wall of corn-shaped cutouts representing Cruz's "field of supporters." A handwritten sign near the kitchen promised, "If Lord's willing, it will be chili for dinner, for free + Fritos."
At a workstation piled with script sheets, scribbled notes and jammed power strips, 19-year-old Rachel Carte finished a call on a high note. The woman she spoke with was not only committed to Cruz, she said, but "bringing, like, eight people with her to caucus." 
Carte has been hopscotching back and forth between her industrial distribution studies at Texas A&M and Cruz duty in Iowa. Yes, the days are long, she says, but it's worth it.
"Ted just creates this fiery passion in you," she told Mic from behind her laptop.
One size doesn't fit all: Are these young conservatives outliers among their peers? Not necessarily. 
If there's one thing to be said about millennials, they don't like to be packed neatly into boxes — and for that matter, according to a Pew Research Center study, don't even like being called "millennials." 
A USA Today/Rock The Vote poll released in January found that 41% of voters under age 35 identify as Democrats, versus just 28% who call themselves Republicans.
But it's not that simple: "On economic issues, more call themselves conservative (38%) than liberal (33%). By a wider margin, on foreign policy, they also are inclined to describe themselves as conservative (37% to 28%)," USA Today reported. 
"It is on social issues that they lean left: 42% say they're liberal, 32% call themselves conservative on questions including race relations and gay rights," the paper said.
"Marcomentum" and the middle: At a Saturday night rally for Marco Rubio at a Ramada in the Des Moines suburbs, Emily Moreno, 22, worked the literature table in horn-rimmed glasses and a sweatshirt that said "A Woman's Place Is In The House And The Senate."
Moreno, a recent Elon University graduate from Cleveland, has been volunteering in Iowa for two months. Her focus seems less about wedge issues than getting the party behind a viable consensus candidate — a point that has contributed to increased buzz about Rubio's appeal in the countdown to the caucuses. 
"I think what my generation really seeks is, 'How can I connect with people?' They really look for that connection, and he's able to provide that," she told Mic of Rubio.
She says she sees a lot of "fear-based motivation" in the race — and that's a turnoff: "That's not a solution. You can't scare people into staying home, or scare people into not coming into this country," said Moreno, a first-generation American whose family is originally from Colombia.
Her deep belief in limited government influences her views across the board too. "I don't need someone else telling me how to live my life, whether that be through who I choose to be in a relationship with," she said. "I don't need someone else to tell me how to spend my money."
As far as Rubio's appeal, "Nobody is 'pro-war.' Nobody is 'pro-abortion.' [I] think he's able to take that message and sort of show people," Moreno told Mic. "He'll say, 'I'm pro-immigration reform. I'm not 'anti-immigrant.'"
Conservative crusaders: Toward the more values-voter end of the Rubio-supporter spectrum is Gina Jochimsen, 19, a University of Iowa student who serves as state field director for Turning Point USA, a nonprofit that seeks to rebrand conservatism for the college set with slogans like "Big Government Sucks" and "I ? Capitalism."
Jochimsen hails from the tiny Iowa town of Swaledale, the daughter of a truck-driver dad and stay-at-home mom. Her Twitter feed is a melange of Bible citations that speak to her evangelical Christian faith, shoutouts to her favorite Fox News Channel hosts and Rubio fandom.
It wasn't always that way — at least on the third point: Jochimsen started the 2016 cycle backing not Rubio but Wisconsin Gov. Scott Walker, who ended his once-vaunted bid for the GOP nomination in September after lackluster polls and debate performances.
Jochimsen admits it took her a while to make the switch to Rubio, but now she's all in, volunteering in his Cedar Rapids office and spreading the word about his "American Dream" candidacy — even, she says, when that means getting grief from classmates who drink "Beers for Bernie" and sneer at her right-leaning views.
"People are scared to admit it: If you're a conservative on campus, there's definitely a bias against you," she told Mic in a chat at the State Historical Museum.
"A lot of times I get that I'm a white, privileged girl — blonde girl — [and] that I don't really know what I'm talking about. That can be tough to take in some instances, but I try to bounce back," Jochimsen said. 
"I'm a full-hearted conservative, 100%, and I'm never going to waver from that."
On the stump for Trump: On Monday night, Carter Nordman of Adel, Iowa, will stand with his neighbors as a caucus captain for frontrunner Donald Trump. 
Nordman has been juggling his work for Trump with homework and basketball games. He's just 17 and a high school junior. Fortunately for Nordman — head of Iowa Students for Trump — and his fascination with politics, Iowa law allows him to caucus since he'll reach the legal voting age of 18 before Election Day in November.
A lanky 6'3" and preppy in dress, Nordman has a Trump sticker on his phone, another on his car and a pragmatic, near straight-from-playbook pitch for the man he first knew as a reality show star.
"He's extremely intelligent. He's gone to the best schools you can go to. He knows the best people. Extremely successful," Nordman told Mic, noting Trump won "landslide" victories in his school's straw poll and mock caucus. 
"When you look at the senators, yeah, they have a voting record — but Trump's actually put his smarts and his abilities to the test, and has actually made an extremely good living off of it," he said. Plus, Trump's "not in the big Washington political machine that's gotten nothing done in the last eight years — whether it's Republican or Democrat." 
Nordman readily admits Adel, a town of about 4,000 people located west of Des Moines, is "pretty Caucasian" — of course, so is Iowa as a whole, which is part of what gives rise to arguments for stripping its first-in-the-nation voting status. 
Like Trump himself, Nordman writes off questions about the candidate's vows to round up undocumented immigrants and bar Muslims from entering the U.S. as faux controversy born of political correctness.
"No one's racist against immigrants coming in. We want immigrants to come here. We want smart people to come here. We want people from all over the world to attend our universities, but they have to come here legally," he told Mic. "No one is racist against Muslims. Very nice people. I mean, Trump has many Muslim friends. But until we figure out what is happening and what is causing this and how we can stop it, we have to protect the U.S. citizens first."
The Trump campaign, which on Monday is charged with demonstrating whether it can translate the ability to draw huge rally crowds to concrete voter backing, declined Mic's requests to visit an Iowa campaign office or shadow volunteers ahead of the caucuses.
The moment of truth — and then what? The Iowa caucuses begin at 7 p.m. Central, and depending on the turnout — which could be affected by forecasts of snow — the nation could have Iowa's verdict in hours.
Then the frenzy will subside. The campaign ground forces will disband. 
Some Republican volunteers told Mic they plan to go back home or return to school; others weren't sure. Given the fever pitch of the race, the total immersion in the pizza-fueled, sleep-deprived drive for primacy, the close of the caucuses seemed a hazy concept, an afterthought.
"It is probably one of the greatest experiences of my life, coming down here and doing this," Rubio volunteer Alex Richmond, 25, told Mic. 
"What you read every day and watch on the news — you're like, 'I'm there. I'm living this,'" he said with more than a touch of wonder. 
"It's kind of crazy."