6 Couples Who Overcame Insurmountable Differences to Find Love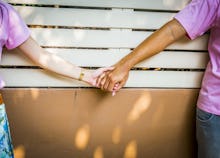 Every couple has their differences. You may root for the Yankees, while your partner roots for the Mets. Your significant other might vote Republican, while you're a diehard Democrat. 
But some differences are more difficult to overcome than others. How do you tackle marrying and even raising kids with someone with drastically different religious beliefs? How do you meet the love of your life, only to have your family shun them for their culture?
It's not easy but it is possible. Just take it from these six couples who overcame drastically different backgrounds to fall in love. 
Dating with religious differences
It can take time to discover your differences from your partner. "Who in the world asks about religion or politics on the first few dates or when you're first getting to know someone?" Tumblr user pewpirex told Mic. And even when you have been together for a long time, people change. 
"I haven't always been religious, and he still isn't," pewpirex said of her relationship with her husband of five years. They both grew up going to church, but stopped practicing religion along the way. Until "something crazy happened," she said, and she began believing "there must be a God."
She and her husband have a young child and one more on the way. After her belief in God was reignited, it became important to her that their kids experience a religious upbringing. 
"So one day I just sat down with him and told him I wanted to start getting back into church and taking our son, which I thought would be an issue," perpirex said. "But he agreed with me... we are both very happy with who we grew up to be, and church had something to do with that. I thought it would be an issue, but [now]... I feel like no matter the differences, you would be able to get over them if you truly care about the person."
While she was able to deal with religious differences while raising a family, circumstances change when your parents are invested in your religion.
"I don't care about religion, but my family does," Tumblr user kikido told Mic. "My boyfriend... is atheist while my family is Catholic... We're doing whatever it takes [to stay together]."
To kikido, religion was more important to her family than to her. But as many couples experience, getting your family to accept your partner's differences can be a much bigger challenge than overcoming it yourself. 
Dealing with families from different cultural backgrounds
Religion and culture are often intertwined, and get even more complicated when families come into play.
"My boyfriend is Saudi, I'm Canadian," Tumblr user tanisfinlay told Mic. "It was hard in the beginning — half my family cut ties with me. The cultural differences are huge but in the end we love each other more than our differences. We keep an open mind and just keep going with the flow."
Unfortunately, staying united despite cultural differences becomes even harder when national disputes are involved. Jewish and Muslim couples face a lot of discrimination anywhere in the world, but it's the most heated where politics come into play. 
Sulome Anderson, a journalist based out of New York City and Beirut, can relate. She and her fiancé Jeremy made headlines in 2014 when a selfie of them kissing went viral as part of a social media campaign, "Jews and Arabs Refuse to Be Enemies."
"Jeremy grew up Orthodox Jewish; I'm half Lebanese and grew up with my Arab family," Sulome told Mic. "We knew right away that we were raised very differently, but neither of us considered that an obstacle to our relationship."
Despite both Anderson and Jeremy identifying as agnostic, their cultural differences have caused serious stress on the relationship.
"It's been really hard, not because it causes conflict between us — although when we first started dating we would fight about politics frequently, but that's changed — but because his community has been really disapproving of our relationship," Anderson said. "We're getting married in June and I have yet to meet a single person in his family because they won't see me."
They have received harassing phone calls from people in their community telling her not to marry a Jew, or offering to set him up with single Jewish women. And while their viral selfie received a lot of "beautiful and humbling" responses from other Jewish/Arab families, couples and friends, it also had some harsh backlash from their respective communities. 
"Unfortunately, both of us received the most criticism from our own people," Anderson said. "Many Arabs and Muslims disapproved... Jeremy got so much hate from Jewish people who called him things like a Hamas supporter, a terrorist lover and a race traitor. That was really awful."  
"I think the fact that we come from different backgrounds has brought us closer together."
Nurit Canetti is a reporter for Al-Monitor based out of Tel Aviv who's interviewed a number of Israeli-Palestinian couples about their experiences.
"The couples live the complexity of the situation, and feel it every day, in their house and outdoors," Canetti told Mic. "But still they have a very strong belief in their way of life and their choice. It was very powerful... they know they chose an almost impossible choice but they are so sure."
For Anderson, having to make that choice and face its consequences has actually made her relationship stronger. 
"If anything, I think the fact that we come from different backgrounds has brought us closer together," she said. "We're both pretty stubborn people and we were determined not to let any of this affect our relationship." 
Even when religion isn't involved, different cultural backgrounds can have a huge affect on your relationship.
"I just never knew how culture could affect a relationship so much until I became involved with her," Tumblr user lavenderkoi told Mic about her partner. "My girlfriend is Mexican, born in Mexico and is deeply rooted in her culture and her family. Meanwhile I'm extremely Midwest white bread, and the differences in how we were raised and how we view the world every day [are] extremely different. Especially because we are gay and she isn't out to her family, while I am."
When culture comes into play, a couple has more to face than accepting each other's differences. They must either make their families accept those differences too, or choose how much they are willing to lose to make the relationship work. 
Can love really conquer all?
Even when couples are similar, there's no guarantee that differences won't arise along the way. That was the case for Tumblr user the-cimmerians. They identify as a queer nonbinary ace and have been married to a straight cis man for 22 years. 
"Over the years I went from bi to lesbian to nonbinary queer to aesexual," the-cimmerians told Mic. Their relationship has held strong despite differences in sexual orientation and the challenges that can bring. "He's still here, still him. He's a great kitty-daddy."
If we can learn only one thing from these couples, it's that there's no difference too big to overcome. And it turns out, the key to holding these relationships together is the same as the key to any healthy relationship.
"Compromise compromise compromise," Tumblr user conservapedian said about maintaining their relationship despite differences. "A big part of it is figuring out to unconditionally love an imperfect person."
Whether the differences are clear from the outset or they develop over time, what they say is true: Love really can conquer all. It just takes some good old-fashioned hard work along the way.