This Viral Letter Is Exactly What All Students Should Hear Before They Get Test Results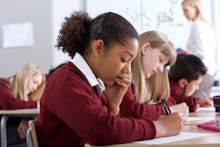 On Friday, primary school students at Harmony Hill School in Antrim, Northern Ireland received a note from their teachers just before being given the results of a transfer test. Similar to the SAT, the test determines which high school students in the province will be eligible for.
The letter contained what administrators hoped would be an uplifting message to reassure the children that no matter what their score, they had reason to feel good. The missive was posted in full to the Facebook page of the nearby Carrickfergus Grammar School Music Society. As of Monday morning, it had been shared more than 500 times.
The letter opened, telling students that, if the score was not what they were expecting, teachers would be "very sorry about that," and would "would feel disappointed 'for you' too — but we won't feel disappointed 'in you.'"
"Unfortunately, in life, things don't always work out the way we want them to, and it can take a little time to sort out the feelings and thoughts we have when that happens," it read. "We know that each one of you has worked very hard and with a great attitude. No score can ever take that away from you." 
Students, the letter continued. should stand tough against any obstacles that may come their way. "Don't give up easily when the going gets tough."
"Grow up to be kind, caring, generous, loving adults who make a positive difference in this world by how you live your life." 
School principal Harry Greer told the BBC that he was mystified by the amount of attention the letter had received. "We've been really surprised by all the attention," he said. "We just wanted them to know that we were thinking of them today. It can be a time of great excitement, but for some children, it can be a time of great disappointment."   
So does the British gesture mark the beginning of a revolution toward a gentler standardized testing environment here in the U.S.? Maybe — but don't bet the farm.  
Get the five stories that will challenge you to rethink the world by signing up for MicCheck Daily.