9 Perfect Tweets for Anyone Who Still Doesn't Get Why There's No White History Month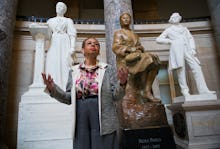 In 1976, President Gerald R. Ford formally recognized February as Black History Month, a month-long celebration encouraging Americans of all races to "seize the opportunity to honor the too-often neglected accomplishments of black Americans in every area of endeavor throughout our history."
But for many Americans, one powerful question has lingered over the last forty years: Won't somebody think of the white people? 
Now, in 2016, courageous white Twitter users are deeply concerned their history is getting black-washed, preventing their important stories from being told and threatening their deeply held traditions into extinction.
On Monday, they bravely took to the internet to express their dismay at the start of Black History Month, furious that white people do not have more days in the year dedicated to recognizing their race. 
Alas, this is not a new trend. A "When Is White History Month?" Tumblr started back in 2012 features equally dismayed contributors. 
A deli owner in Flemington, New Jersey, posted a sign on his store door in March, declaring the start of White History Month. 
"No matter what you are — Muslim, Jewish, black, white, gay, straight — you should be proud of what you are. I shouldn't have to feel bad about being white," owner Jim Boggess told the Hunterdon County Democrat.
But the sign backfired: Customers were outraged, and by August the deli was out of business.
Similar backlash hit on Twitter on Monday. There appear to be just as many users vocally rejecting the idea of White History Month as there are proponents. 
A number of government-affiliated institutions and organizations are spending the month "paying tribute to the generations of African Americans who struggled with adversity to achieve full citizenship in American society," the official African American History Month website explains. 
But there's one user that put it best, and it's a trope any kid who ever complained about having a Mother's Day and a Father's Day but no Kid's Day would be well acquainted with: