Who Is Frederick Douglass? Google Doodle Celebrates Birth of Civil Rights Crusader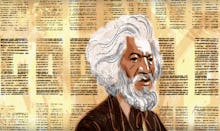 YouTube
In a strong start to Black History Month, Monday's Google Doodle commemorates the life of Frederick Douglass, an African-American abolitionist who lived during the 19th century. Born into slavery in Talbot County, Maryland, in 1818, Douglass went on to live a cerebral life as an intellectual icon and as a civil rights crusader. To this day, Douglass' writings, particularly his autobiographical work before and after the Civil War, paint a picture of the early struggle for equality in America and the social landscape that surrounded it.
Douglass spent his earliest years on a plantation and lost his mother at the age of 10, according to his biography. He was sent to live at Hugh Auld's home in Baltimore, and it was there that Douglass learned to read and write and began to cultivate his earliest opinions on abolition and equality.
Read more: 
At the age of 20, Douglass escaped from slavery with the help of Anna Murray, a free African-American woman whom Douglass married in 1838. Together, the couple had five children — Rosetta, Lewis Henry, Frederick Jr., Charles Redmond and Annie.
In his earliest days, Douglass was an avid newspaper reader and was an aspiring reporter, according to a write-up from Google. His education helped Douglass to become a great orator, and in doing so, helped spark a grassroots revolt that aimed to achieve equal rights. 
"When Douglass was hired out to William Freeland, he taught other slaves on the plantation to read the New Testament at a weekly Sunday school," reads an explainer from Google shared alongside a post on YouTube. "As word spread, the interest among slaves in learning to read was so great that in any week, more than 40 slaves would attend lessons. For about six months, their study went relatively unnoticed. While Freeland remained complacent about their activities, other plantation owners became incensed about their slaves being educated.
"One Sunday they burst in on the gathering, armed with clubs and stones, to disperse the congregation permanently."
In addition to his crusade to end slavery, Douglass is known to have lectured on a number of other topics, including women's rights and national politics. More than once, President Abraham Lincoln called on Douglass as an adviser, according to the History Channel. 
"Brilliant, heroic and complex, Douglass became a symbol of his age and a unique voice for humanism and social justice," History Channel's write-up on Douglass said. "His life and thought will always speak profoundly to the meaning of being black in America, as well as the human calling to resist oppression."
Douglass is believed to have died on Feb. 20, 1895, in Washington, D.C. Weighing in on the significance of Douglass' life and the work he left behind, many users on Twitter shared quotes from the civil rights activist:
For more on Douglass, his life and his work, here's Google's explainer:
Feb. 1, 2016, 11:24 a.m. Eastern: This story has been updated.