Are Beyoncé and Jay Z Making an Album Together? Here's What We Know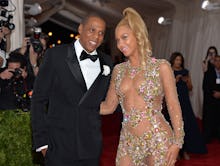 Evan Agostini/AP
As 2016 kicks off with a world of new music, from Rihanna's Anti to rappers Kanye West and Drake announcing new album release dates, there are two notable heads of hip-hop royalty who have been awfully silent, other than the joker, Frank Ocean: Beyoncé and Jay Z. It's not exactly clear what both artists are currently working on, though the two have been seen possibly shooting videos in New Orleans, and industry insiders are starting to talk.
"I don't think we will disappoint our fans and our subscribers," Tidal executive Vania Schlogel told Digital Trends in May when asked about a possible joint album from the two artists. "I think it's going to be really exciting, because the artists do feel like they have the ability to collaborate and work with each other. They all work as a team."
Read more:
Rumors have been swirling ever since the two performers toured the United States for their On The Run tour. More recently, however, a number of industry insiders have been hinting at an imminent release from the two artists, which would follow a series of commercially successful single releases, including "Drunk in Love," "Crazy in Love," "Upgrade U," "Deja Vu" and "Lift Off," among several others.
In April DJ Skee said of a possible Jay Z and Beyoncé album, "[The album] is nearing completion and now my sources are saying it will be released exclusively on Tidal," according to the International Business Times. Later, reports that a producer by the name of Glass John, who tweeted he was "working his ass off" to get on the pair's forthcoming album, surfaced in December. 
Whether any of this is true or if all of it is just speculation, however, is anyone's guess. It might make sense for Jay Z to release any next project on Tidal, as his Barbadian hip-hop prodigy's Anti broke a million downloads in less than 14 hours, making it the fastest album to ever go platinum by the Recording Industry Association of America. 
Anti streamed on Tidal exclusively for its first week for anyone who visited the streaming service, even without a subscription. Rihanna also provided a code for the first million fans to download the album, making it free for those listeners to purchase a copy. 
If Jay Z and Beyoncé were to follow suit and provide their first joint album together on their very own streaming service, it would likely break the internet — whether it would stop the world the same way Beyoncé did when surprising fans with the 2013 digital drop of her self-titled album, however, is still unclear.