Is "You're So Vain" About James Taylor? The Meaning of Carly Simon's 1970s Song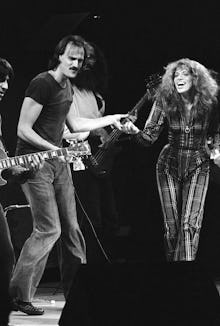 Carlos Rene Perez/AP
More than 40 years after it became a radio hit, people are still wondering if Carly Simon's "You're So Vain" is about her then husband James Taylor — or her ex-lovers Warren Beatty, Mick Jagger, David Geffen, Kris Kristofferson, Cat Stevens or several other famous artists the singer-songwriter dated back in the day. It turns out it's definitely not about Taylor but it may be about more than one of the narcissists Simon was involved with.
"No, it's definitely not about James, although James suspected that it might be about him because he's very vain," Simon told Rolling Stone magazine following the song's release in 1973, according to carlysimonmusic.com. "No, he isn't, but he had the unfortunate experience of taking a jet up to Nova Scotia after I'd written the song. He was saved by the fact that it wasn't a Lear." Good one, Simon. 
Read more:
So Taylor is out — but we now know that the old school diss track is at least partly about Beatty. In a 2015 interview with People about her then upcoming memoir Boys in the Trees, released Nov. 24, 2015, Simon "confirmed" that the second verse is about the Bonnie and Clyde actor. "Warren thinks the whole thing is about him!" she told People, which is telling of why it's partly dedicated to him. 
Taylor did wind up cheating on Simon and the two split in 1983 after he suffered from heroine addiction — but their relationship was newlywed-fresh at the time "You're So Vain" came out in 1973 (they married in 1972), so one would hope the song wasn't about him. 
Simon also revealed to People that the other two verses are about two other men whose identity she still refuses to reveal "at least until they know it's about them."