Where Is Rihanna From? A Brief Look at 'Anti' Singer's Background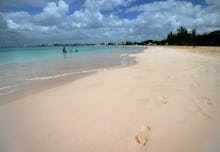 Jewel Samad/Getty Images
Over her approximately decade-long career, Rihanna — born Robyn Rihanna Fenty — has dominated the music industry, pop culture and subsequently the world. Her proof? Multiple Grammys and awards, eight studio albums (sixth of which went platinum as of Feb. 1) and making history as the first black woman to be the face of Dior.
Rihanna's first single "Pon De Replay" instantly hooked listeners, peaking at No. 2 on Billboard's Hot 100 in July 2005. The song, with its island beats with a poppy twist, has distinct roots to Rihanna's native home: Bridgetown in the Parish of Saint Michael, Barbados. 
Read more:
Bridgetown is the Caribbean island's largest city, its commercial center and a UNESCO World Heritage Site. The island itself is small, sitting at 21 miles long and 14 miles wide, according to Travel and Leisure. But it's stocked with sugar cane fields, pristine beaches and jamming reggae clubs. The island is a favored getaway destination for Simon Cowell and Queen Latifah, OK reported.
Rihanna was born to Ronald Fenty, who ran a garment warehouse, and Monica Braithwaite, who was an accountant, on February 20, 1988, Rolling Stone reported. With her parents and her two younger brothers Rorrey and Rajad, Rihanna lived in a small bungalow, she told Oprah Winfrey during a tour of her childhood home, according to the Huffington Post. Rihanna called herself a "beach baby" to Harper's Bazaar in February.
Her father was a crack addict, and Rihanna remembers him spending half of his Friday paycheck on alcohol. At times, he beat her mom, once striking Rihanna. "I ran home with his handprint on me," she told Rolling Stone. "I couldn't believe it. My mother saw my face, how traumatized I was." Tension ran high; eventually, he lost his job and her parents divorced.
Subsequently, Rihanna grew a tough exterior. "I grew up kind of fast," she told the Guardian in 2007. She was a loner in school, made fun of for her light complexion, she told Entertainment Weekly in 2007. At the age of 11, she was an army cadet, according to an interview with NME. (Her drill sergeant was fellow Barbadian musician Shontelle.)
"This skin has been developing since my first day at school," she told Harper's Bazaar. "It didn't happen after fame; I couldn't survive fame if I didn't already have it."
But she always knew stardom was her future. "I would say, 'When I become a singer ...' I knew I was gonna meet somebody one day," she told the Guardian. "Really and truly." She would sing on the beach, in clubs and pageant shows, Rolling Stone reported. Her nonstop vocals prompted her neighbors to call her Robyn Red Breast. 
In 2003, music producer Evan Rogers, who's worked with Kelly Clarkson, was vacationing with his wife Jackie, the Guardian reported. The mother of one of Rihanna's friends was friends with Rogers' wife, and set up an audition. Rihanna was 15 years old, and belted out Mariah Carey's "Hero" and Destiny's Child's "Emotions." Rogers was immediately impressed. "She carried herself like a star even when she was 15," he said, according to Entertainment Weekly. 
At the age of 16, Rihanna moved in with Rogers in Stamford, Connecticut, to record her demo, which included "Pon De Replay," the song that would capture the ears of rapper Jay-Z and his Def Jam label. "When I left Barbados, I didn't look back," Rihanna said, according to Entertainment Weekly. "I wanted to do what I had to do [to succeed], even if it meant moving to America."
The rest — aka countless hits and even a feature film role — is history. "Robyn is the brick to my foundation," she told Rolling Stone. "It's something I hold on to. It's everything I grew up with, my childhood, Barbados, people close to me. Everything that's familiar. People know Rihanna from my music. But if this were to all go away tomorrow, I would always look at myself as Robyn."