Here's an Inside Look at the Future of the Hyperloop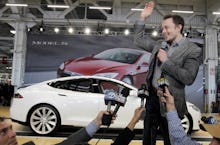 When it comes to billionaire Elon Musk's lofty vision for the Hyperloop, a theoretical high speed transportation structure, there's one pod to rule them all. Last weekend, at the Hyperloop Pod design competition at Texas A&M University, 23 lucky pod-designing teams moved one step closer to glory.
The competition was intended to narrow the field of designs for the Hyperloop's pod — the vehicle that will whiz around the system's tubes. 120 teams from around the world (mostly made up of university and high school students) entered the competition, but only a handful were selected to move on.
Massachusetts Institute of Technology's team took the top spot, winning the award for best overall design. Other winners included teams from Delft University, the University of Wisconsin-Madison, Virginia Tech and the University of California, Irvine.
MIT team captain Philippe Kirschen believes his team's design was successful thanks to its practical nature, focused on safety and scalability. "When I was applying to university when I was 16, I wrote about working on maglev (magnetic levitation) trains," he told Engadget. "Now six years down the line and I'm working on a maglev train."
According to the team's description, MIT's pod "is approximately 2.5 meters long and uses permanent magnet arrays for electrodynamic levitation."
SpaceX and Tesla CEO Elon Musk himself made an appearance at the competition, heaping praise on the teams and their designs. "I feel really good about this," he said, according to Engadget. "I think the work that you guys are doing is going to blow people's minds." He added that SpaceX would likely hold similar competitions in the future.
"The public wants something new," Musk said, according to the Verge. "And you're going to give it to them."
Other pod designs included New York University's S.L.A.T.E — "a safe, economically viable and practical implementation of the Hyperloop concept" — and Rutgers University's effort, which "features a sleek outer mold, magnetic levitation system and air-powered braking system."
The winners are now set to build human-sized versions of their pods, which they'll reportedly test this summer at a mile-long test track next to Musk's SpaceX California headquarters.
Below, the full list of winners:
Best Overall Design Award: MIT Hyperloop Team, Massachusetts Institute of Technology
And advancing teams:
rLoop (non-student team)