Is Beyoncé Planning Another Surprise Album Drop? Singer Seen Recording Music Videos in US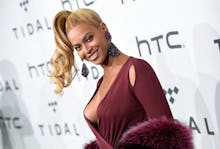 Evan Agostini/AP
As fans still recover from the heart palpitations Beyoncé's surprise self-titled 2013 album induced, rumors involving music video filming suggest she may be planning another surprise EP that may drop soon — possibly in the middle of her Feb. 7 performance with Coldplay during the Super Bowl halftime show. Yes, that's in less than a week. Deep breaths, beyhive. 
Bey's Twitter cult recently shared pictures of their queen wearing a black ballgown under a black zip-up, suspended on wires from a six-story building in Los Angeles on Jan. 26. A few days later, the same source tweeted that it's "confirmed" Beyoncé was filming a music video for a song called "Formation" — but there's no viable evidence to back up these rumors. No. Chill.
Read more:
Beyoncé's 2013 surprise, a 14-track record, dropped with 14 accompanying music videos, lead fans to believe that filming new music videos means she's getting ready for a similar surprise in early 2016. 
A screenshot of an email allegedly sent last week shows Bey may have filmed a music video on Jan. 25 and Jan. 26 in Los Angeles. The email says "Project: Beyoncé Music Video" and includes the dates, outfits needed and LA location. The email seems to be sent from Ade Samuel, an assistant for celebrity stylist Simone Harouche, according to her LinkedIn page. 
Furthermore, gossip tabloid Mirror reported that Beyoncé's planning to drop the new album during the Super Bowl halftime show. A "music insider" told gossip tabloid the Sun that the album's been ready since 2015 but Beyoncé was waiting for the hype surrounding Adele's platinum album 25 to slow down so that she didn't steal her thunder. 
"Beyoncé doesn't have the pressure of releasing an album and is doing bits here and there because she and her team know it is Adele's time to shine," the alleged insider told the Sun. "The last few months have been all about her comeback." 
While any tabloid reports should be taken with a grain of salt, the inimitable R&B-pop artist has released an album roughly every two to three years since her solo debut Dangerously in Love in 2003, so the timeline makes sense.