This Hairstylist Is Recreating Classic Works of Art With Her Hair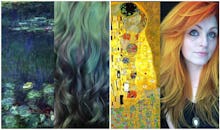 At this point, hair dyeing should be considered an art. From creations like pumpkin spice hair to galaxy hair, it's become a favorite Instagram pastime to use hair as a palette for colorful artistic visions. It can be difficult, time-consuming and labor-intensive, but also highly creative.
Now one woman, Kansas-based hair stylist Ursula Goff, is highlighting the art of hair coloring quite literally with her "fine arts" series, which draws inspiration from famous works of art. 
From Vincent van Gogh's "The Starry Night"... 
...and Roy Lichtenstein's "Drowning Girl"...
...to Gustav Klimt's "The Kiss."
Amid all the wild hair trends that have young women going gray or tie-dyeing their hair, these looks are inspired by historical masterpieces. Goff (whom Mic has reached out to for comment) looks at a popular piece of artwork, takes the colors and brushes them right onto her strands. 
"I ... find that both the personal struggles and larger impacts of the art and the artists themselves are terribly interesting and cause us to ask fundamental questions about art, and often, about life, too," Goff wrote on her blog. "I think there are greater lessons to be drawn from art than just color, light, shade, form and technique." 
So each piece she recreates comes with its own explanation on Facebook and Instagram, often going deeper than simply hair color.  On recreating Georgia O'Keeffe's "Red Canna," for instance, she wrote about O'Keeffe's history of painting flowers, musing philosophically: 
I think her story brings forth interesting questions about the relationship between art and the viewer: Does the artist alone get to control what their art is about? Or does the audience get to have a say? Do we have to accept outside interpretations for art, even if the artist disagrees with them? Is it fair to tell an artist what they may be "subconsciously" conveying?
When Goff recreated one of Claude Monet's water lily paintings, she made sure to note that the artist struggled with depression and ended up destroying hundreds of his pieces, but wrote "[t]his goes to illustrate that no matter our feelings about ourselves, we can still have an enormous ongoing influence in the world; perhaps in that sense, there is no such thing as failure."
Giving each hairstyle a deeper message to explore is typical for works of fine art, evoking the many plaques we see alongside paintings in museums. But in fact, even without the art history tie-ins, there are already often hidden, deeper stories behind the images we see on Instagram. Goff, who has more than 54,000 Instagram followers and 36,000 Facebook fans, made headlines in December for getting honest about the toll that excessive dyeing takes on your hair, as well as how social media can affect one's self-esteem. Below a side-by-side picture of her all done up vs. her bare-faced and messy haired, Goff wrote:
Social media can make it easy to feel like everyone else is awesome and perfect all the time, but that's really never true. We should keep in mind that behind every pretty face or perfect lifestyle is a regular person, and that there's really no point in comparing amongst ourselves because this is all cultivated.
But with her new series, Goff is giving new purpose to her hair creations and exposing her fans to a few masterpieces and the history behind them.
From Botticelli's "The Birth of Venus"...
... to Andy Warhol's hot pink Marilyn Monroe print. 
She's basically a walking museum, and we think that's a pretty beautiful thing. 
h/t BuzzFeed