11 Gut-Wrenching Photos From the Violent Clash Between Neo-Nazis and Pro-Refugee Protesters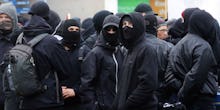 On Saturday, a group of fascist nationalists were waiting for anti-fascist protesters at a service station in Maidstone, United Kingdom, where they stopped on their way to a peaceful rally in Dover to support refugees.
The neo-Nazi group allegedly began attacking the protesters' coaches, throwing objects and punches, smashing a windscreen and even reportedly drawing a swastika in blood on one of the buses. 
"They attacked one of our coaches and smashed up the windows and one of them came and daubed a swastika in blood on the side of one of the coaches," Anindya Bhattacharyya, a member of the anti-fascist protesters who was in the service station when violence first erupted, told the Guardian.
"The service station staff bolted the doors and through the windows we could see a large group of fascists," he added. "They were wearing [neo-Nazi organization] Combat 18 T-shirts."
Dan Glass, one of the targeted peaceful protesters, was assaulted and described the scene to International Business Times.
"They were holding signs [in Dover] saying 'Hitler was right' and 'White power worldwide,' so we were going to stand with banners saying 'refugees welcome,'" Glass said. "When we pulled into the service station, they had obviously been following us, they are clearly getting organized."
"That's where I saw Nazis writing swastikas on our coaches in blood, they were throwing anything they could get hold of," he added.
Later in the day, once the scheduled protest and counter-protest began in Dover, police were called to the scene as bricks were thrown, weapons seized and smoke bombs set off. 
Speakers representing the fascist factions used words like "third world scum," the Independent reports, and many of them were seen heiling Hitler, the Nazi salute. 
The town has become the site of multiple neo-Nazi demonstrations in recent months. "The people of Dover are sick and tired of their town being used to spread a message of hate," Bridget Chapman, Kent Anti Racism Network chairman, told KentOnline. "We're here to firmly reject that message of hate."
The massive influx of refugees and migrants into Europe over the past few years has generated social and political tensions across the continent, galvanizing a far-right movement. Global economic insecurity has exacerbated the xenophobia, some have argued.
"You get this growing inequality, which is combined with slowing growth, and that's a really terrible thing because it puts people at war with each other," economics Nobel laureate Angus Deaton told Bloomberg Business when discussing the troubling intersection of a weak economy and mass migration.
Yet, despite the strong resistance to refugees, there remain staunch advocates of welcoming them, most of whom are fleeing failed states and systematic violence in the Middle East.
"We want to very peacefully and responsibly say to the fascists that they are not welcome in our town," Chapman said. "People want to join our ranks to give a really strong anti-racism message."