This Adele/Mozart Mashup Video Is Your First Step to Becoming a Classical Music Aficionado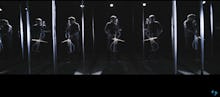 A mashup rendition of Adele's hit single "Hello" with Mozart's "Lacrimosa" went viral on YouTube over the weekend. The arrangement by the Piano Guys opens with Mozart's 18th century masterpiece before gradually shifting into more modern fare. 
Hello/Lacrimosa, which has amassed more than 2.5 million views since it was uploaded on Thursday, "is a musical experiment bridging 18th century spiritualism and 21st century secularism," wrote the creators on their website. 
"Imagine Mozart and Adele in the same room in an intense co-write session, quill and pen in hand, respectively. Picturing this hypothetical hangout helped to spark the creative combination of the two."
The Piano Guys piece — which, ironically, contains no pianos — was arranged by Al van der Beek and Steven Sharp Nelson, and features the cello work of Nelson (which explains the nickname it earned in the studio, "Chello").
And it sort of works. Take a listen here.
Mozart's "Lacrimosa" is arguably the most famous movement of his 1791 Requiem, left unfinished when he died at the age of 35. The full requiem was later completed by the German composer Franz Xaver Süssmayr and it remains unclear to this day exactly which aspects of the requiem can be credited to each composer.
The story of the requiem was immortalized by the 1984 Miloš Forman film Amadeus. The largely fictionalized account of Mozart's life features the composer breathlessly working with his chief rival Antonio Salieri to finish the requiem before he ultimately expired. 
In the dramatization, Salieri assumed the role of Süssmayr, desperately working with the dying composer to finish the piece, only so he could pass it off as his own. The film won eight Oscars, including best picture, best director for Forman and best actor for F. Murray Abraham as Salieri. 
The melding of classical with pop has a relatively established history in modern musicianship. The composer Wendy Carlos received acclaim for her work Switched-On Bach in 1968, which fused the centuries-old music with the sounds of a Moog synthesizer.