Is Animal Collective on Tour? Here's What to Know About the Psych-Pop Band's Show Schedule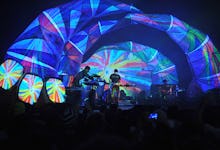 Angela Weiss/Getty Images
The good news for fans of experimental pop outfit Animal Collective is that the band is gearing up for an exhaustive world tour. However, tour dates to see the powerhouse indie act are selling out fast. As of Monday morning, the first show listed on the group's tour page, a Feb. 19 gig at Union Transfer in Philadelphia, was already sold out, as was the following show on Feb. 20 at Portsmouth, New Hampshire's 3S Artspace. As Animal Collective makes its way westward into March, ticket availability was limited, though not completely sold out.
Here's a list of all of Animal Collective's scheduled tour dates and ticket-purchase options. After performing at McDowell Mountain Music Festival in Phoenix, Arizona, on March 11, the group will embark on a European tour that kicks off at Rewire Festival in the Netherlands on April 1. 
Read more:
Once abroad, the band is also scheduled to play Primavera Sound music festival on June 3 in Barcelona, Spain. Radiohead, LCD Soundsystem, Sigur Rós, PJ Harvey, Neon Indian, Parquet Courts, Chairlift, Deerhunter, Pusha T and Beach House are among the bands also scheduled to perform at the annual festival.
On Monday the four-piece, Baltimore group released "Lying in the Grass," a track that will be housed on Animal Collective's 11th studio album, Painting With. The record is scheduled for release on Feb. 19 and follows 2012's Centipede Hz.
Previously, the group released "FloriDada," which will serve as the opening track on Painting With. Animal Collective followed up the track's release with a colorful, psychedelic music video that looks like someone on acid thought through the process of coupling and procreation from start to finish. Sunglasses and an open mind are recommended and, perhaps unsurprisingly given that description, the video comes equipped with a warning: "Viewer discretion is advised — the video has been identified to potentially trigger seizures for people with photosensitive epilepsy."
Here's the track list for Painting With:
1. "FloriDada"
2. "Hocus Pocus"
3. "Vertical"
4. "Lying in the Grass"
5. "The Burglars"
6. "Natural Selection"
7. "Bagels in Kiev"
8. "On Delay"
9. "Spilling Guts"
10. "Summing the Wretch"
11. "Golden Gal"
12. "Recycling"
7" track list:
A. "Gnip Gnop"
B. "Hounds of Bairro"