This Startup Is Helping Nigerian Workers Send Money Home to Their Families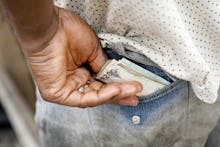 In the U.S., sending money is so simple that Venmo has become a verb. In other parts of the world, sending cash isn't so easy, even when workers have families to support.
Roughly 40% of Nigerians don't have access to any kind of banking or financial institution, according to the 2014 Enhancing Financial Innovation and Access report, an international development group advocating for financial inclusion in Nigeria. Many of these people live in rural areas, which are hard to access because of a lack of roadway infrastructure. According to the report, 15% of those Nigerians without access to banking rely on money sent from friends and family.
An organization called Stellar is making it simple for families and friends in Nigeria to cheaply send one another money. Stellar is a financial network akin to Bitcoin that allows cash to be transferred digitally. The company previously helped develop savings accounts for young girls in South Africa. 
To make its money transfers available to a broad spectrum of people in Nigeria, Stellar has teamed up with a software company that develops software for microfinance institutions, which create financial opportunities for low-income communities called Oradian. Through the partnership, Nigerians will be able to send money from one microfinance institution to another for free.
Microfinance institutions serve as savings-and-loan substitutes for people without access to traditional banks. Stellar's program is initially rolling out to 200 such branches and stands to reach at least 300,000 account holders, according to the company.
The situation: While a large number of Nigerians don't have bank accounts, that doesn't mean there aren't methods available for sending money. Western Union, for instance, has long had a presence in the country. But Western Union money transfers are notoriously expensive. As an alternative, some Nigerians entrust a bus driver to physically ferry money from one city to another. However, sending actual cash has its downsides, says Kim. For one, thanks to poor and lacking roadways, it can take days for money to reach its destination. Secondly, there's always the potential that the bus driver can get robbed in transit.
Though nearly nine in 10 Nigerians have a mobile phone, according to Pew, mobile money hasn't taken off to the same extent it has with technologies like Kenya's M-PESA, which transforms Kenyan shillings into phone minutes that can be purchased and spent like regular legal tender. Since launching in 2007, M-PESA has garnered 25.1 million users, more than half of whom are in Kenya. 
While using mobile minutes as a form of digital money hasn't yet taken root in Nigeria, venture capital-funded digital money-transfer company Paga has made quite the splash since its launch in 2011. Paga allows anyone to send money via a mobile app, its website or through one of its many agents for a fee. Paga boasts over 4 million customers and has more than 9,000 agents spread across Nigeria. In October, the company closed a $13 million round of funding.   
While Paga has made great strides in connecting more people to a financial infrastructure, its client base is a small fraction of Nigeria's nearly 185 million citizens. That means there's plenty of room for Stellar to connect Nigeria's more remote residents with financial services.  
What about Bitcoin? Members of the Bitcoin community have touted the cryptocurrency as an alternative that could empower people without access to banking, but so far it hasn't taken off in a substantial way. There are only 12 million Bitcoin wallets downloaded worldwide, according to Coindesk. 
Why hasn't it caught on? Maybe because of the difficulty of entry. Bitcoin requires individuals to take it upon themselves to exchange their cash for Bitcoin and join the network. Additionally, using, storing and transacting Bitcoin can be complicated in ways that intimidate some new users.
By contrast, Stellar doesn't have a public-facing product. It works with companies and institutions like Oradian that already have consumer products that can tie into its network. This allows users to transact without thinking about the technology involved. Stellar is also working hard to put its technology and services in familiar places.  
Why Stellar? More than just a checking account, Stellar has created a system for moving money from point A to point B. Any financial institution — including Paga — can hook into its network to transfer money. Rather than introduce people to a new brand, the nonprofit organization is leveraging people's existing relationships with microfinance institutions as a way to reach the unbanked.
It's worth noting that only 2.6 million people in Nigeria have accounts with microfinance institutions, according to the 2014 Enhancing Financial Innovation and Access report. Stellar cofounder Joyce Kim told Mic she doesn't think this is an impediment to growing the service.
"What helps us is that the MFIs have been community banks for such a long time," Kim told Mic. She said working with microfinance operations helps connect Stellar with farming regions, which are known to house some of the country's poorest and most financially excluded citizens. Because microfinance institutions can play an important role in communities without traditional banking, Stellar is betting that word-of-mouth recommendations will help popularize its services — even with those who don't have any kind of financial account. 
And soon Oradian hopes to launch a mobile app, says Kim, giving the service an additional mode of distribution. By next year, Kim hopes to have 2 million Nigerians aboard.
Correction: Feb. 3, 2016