7 Britney Spears Songs That Prove She Understood Heartbreak Long Before We Did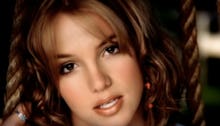 YouTube
Amid her poppy, bubblegum hits like "Hit Me Baby One More Time" and "Oops, I Did It Again!" Britney Spears low-key released a lot of spot-on heartbreak songs in her late teens and early twenties. 
Between 1999's "Born to Make You Happy," about living for someone else's happiness, "From the Bottom of My Broken Heart," about getting over a first real love (totally Justin Timberlake) and several other lovelorn songs from late the '90s to early 2000s, it's clear that Spears understood true heartbreak long before we did — or at least her songwriters understood it. 
Read more:
"Born to Make You Happy"
It's one thing to enjoy making someone happy, but feeling like you were born to make your ex happy is the true definition of heartbreak. "I don't know how to live without your love/ I was born to make you happy/ 'Cause you're the only one up in my heart/ I was born to make you happy."
"Lucky"
This song is Spears' quintessential "You think I'm happy 'cause I'm rich and famous but I'm secretly lonely and depressed" song. "She's so lucky, she's a star/ But she cry, cry, cries in her lonely heart, thinking/ If there's nothing missing in my life/ Then why do these tears come at night?"
"Everytime"
This one embodies that feeling of being haunted by an ex whose absence is preventing you from growing and succeeding. "Every time I try to fly I fall without my wings/ I feel so small/ I guess I need you, baby/ And every time I see you in my dreams/ I see your face, it's haunting me/ I guess I need you, baby."
"From the Bottom of My Broken Heart"
This tearjerker, which Spears released at roughly age 18, is about moving on from a first love while knowing they'll always hold an irreplaceable spot in your heart. "From the bottom of my broken heart," Spears sings. "There's just a thing or two I'd like you to know/ You were my first love, you were my true love/ From the first kisses to the very last rose/ From the bottom of my broken heart/ Even though time may find me somebody new/ You were my real love, I never knew love/ Till there was you/ From the bottom of my broken heart."
"Where Are You Now"
Anyone who's had their heart broken can relate to the lyrics in "Where Are You Now" about adjusting to the absence of an ex. "Calling out your name/ Your face is everywhere/ I'm reaching out to you/ To find that you're not there/ I wake up every night/ To see the state I'm in/ It's like an endless fight/ I never seem to win."
"Lonely"
Spears is clearly finished with whatever jerk messed with her heart in "Lonely." "To think I'm so naive," she regretfully sings in the first verse. "How dare you play with me?/ I gave you heart and soul, yeah/ Tell me, baby, please/ Why you screwing with my head?/ I don't think you understand/ I won't take your (huh) no more/ Don't knock on my door."
"Stronger"
In this new millennium breakup jam, Spears revels in the silver lining of enduring heartbreak — becoming stronger from it. "Now I'm stronger than yesterday," she sings in the chorus. "Now it's nothing but my way/ My loneliness ain't killing me no more/ I'm stronger."