Watch Bernie Sanders Sing "This Land Is Your Land" With Vampire Weekend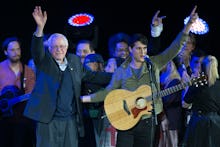 Evan Vucci/AP
Saturday, in an attempt to drum up support from Iowa's young people ahead of Monday's caucus, Democratic presidential candidate Sen. Bernie Sanders arranged a fundraising concert featuring some of the hottest tickets in indie music. Members of Foster the People, Vampire Weekend and the Dirty Projectors took the stage in Iowa City to campaign for the Vermont senator. Knowing the candidate's soft spot for political folk, Vampire Weekend ended the show with one of Sanders' favorites: "This Land Is Your Land." Sanders himself joined them onstage. 
Unfortunately, for all those hoping to hear a nasally, Brooklyn-accented rendition of Woody Guthrie's 1940 hit, Sanders was mic-less. But he still looked fairly at ease up on the stage swarming with acoustic guitars. As he should be: Sanders, as some may recall, has some folk clout. 
Read more:
Back in 1987, when Sanders was the mayor of Burlington, Vermont, he actually released a short five-track EP of protest hymns. "This Land Is Your Land" — which, for some reason, Sanders decided to mix into a uptempo, reggae jam — was one of them.
Source: SoundCloud
The version that Vampire Weekend lead singer Ezra Koenig led Saturday was much truer to the original Guthrie version. Considering the band's makeup is currently in flux, it's likely a lot easier to just sing it straight. On Tuesday, Vampire Weekend's co-founder Rostam Batmanglij announced he would be leaving the band to pay more attention to his solo projects. He released his first solo song, "Wood," on Friday.
For Saturday's fundraiser, Koenig gathered a number of potential replacements for Batmanglij, who used to own backing vocals and harmonies, from the Hawkapellas, a University of Iowa all-female a cappella group. Koenig posted an Instagram video of the group practicing Vampire Weekend's song "Unbelievers" before the set. 
Watch the full video of the performance below. Vampire Weekend takes the stage around the 46-minute mark, and Sanders joins them around an hour and 24 minutes in.