4 Artists Ghosting Just as Hard as Frank Ocean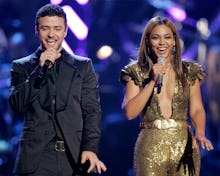 Jeff Christensen/AP
As a new wave of music comes flooding through 2016, some of the industry's most notable stars are offering content to ring in the new year. Rihanna dropped her coveted eighth studio album, introducing us to the rebellious world of Anti. Kanye West and Drake each announced album release dates, as well as starting back up feuds with fellow rappers Wiz Khalifa and Meek Mill. R&B's mysterious golden boy, however, remains in the shadows: Frank Ocean has been ghosting his fans harder than Casper. 
Ocean isn't the only one. It's been years since we've heard from some of our favorite singers, and their old albums are quickly becoming outgrown in music libraries worldwide. (We're looking at you, Beyoncé.)
Read more:
Here are some artists ghosting just as hard as Frank Ocean.
Beyoncé
Is Beyoncé dropping an album in 2016 with her husband, hip-hop mogul Jay Z? That seems to be the question on the top of everyone's minds, as the pair has gone completely silent as to what project they might be working on. We can only hope Queen Bey is about to stop the world as she did in 2013 with Beyoncé, as the artist is ghosting her fans — as per usual. Save for a new Coldplay song, "Hymn for the Weekend," and a music video with the band, the singer-songwriter has been fairly mum. 
Justin Timberlake
There are only so many times one can play "Mirrors" and "Not a Bad Thing" before they get old. Both releases off The 20/20 Experience came out in 2013, and Timberlake hasn't released a single song since. Stop ghosting us, J.T.
Missy Elliot
Missy Elliot tricked the entire world when she performed with Katy Perry as a surprise during the 2015 Super Bowl. Then, she disappeared again, only to reemerge with a new single, "WTF (Where They From)," produced by "Happy" singer Pharrell Williams. It remains unclear whether or not she's planning on releasing a new album.
Daft Punk
Daft Punk is perhaps the king of ghosting: The electronic music duo only goes through the media circuit when they are preparing to release an award-winning album, otherwise, they remain mysteriously anonymous. Not only that, but the two haven't conducted any interviews to shed light on where new music might be, considering they don't speak. The group's last album, Random Access Memories, was released in 2013. They are ghosting robot kings.