Elton John's 'Wonderful Crazy Night': Release Date, Track List and Reviews for New Album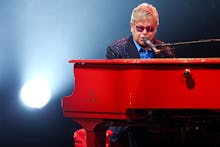 Rich Fury/AP
The British pop legend Elton John will be releasing his newest studio album Wonderful Crazy Night Friday. John brought back familiar faces for this album, enlisting the help of lyricist Bernie Taupin, with whom John has collaborated for over 40 years; producer T-Bone Burnett, who helped John with his 2013 studio album The Diving Board; and his former band members Davey Johnstone and Nigel Olsson. 
Fans who preorder Wonderful Crazy Night on iTunes will also receive a download of John's single "Looking Up," according to Rolling Stone.
Read more:
John said it took him less than a month to complete his newest album. "The new album is all one or two takes, and that's it," John told the Sunday Times, according to uDiscover. "We did a song a day, wrote a song, finished it, did the backing vocals and then went onto the next track. So in 17 days we did 14 songs, 10 of which ended up on the album."
Track list: Wonderful Crazy Night will come in three editions: a standard edition featuring 10 tracks; a deluxe edition featuring two added tracks, "Free and Easy" and "England and America"; and a super deluxe edition, which includes two CDs, an LP and a 20-page photo magazine of John. The super deluxe edition is available for preorder on John's official website.
1. "Wonderful Crazy Night"
Early reviews for John's newest studio album are generally positive.
"This is a very decent album, glowing with energy: It would just be more powerful if it came with a dose of real life," pop critic Tim de Lisle wrote in the Daily Mail. "Elton remains a giant of his craft, but one best appreciated in concert."
Correction: Feb. 1, 2016