"Broken Glass" Lyrics: Meaning Behind Sia's New Song Off 'This Is Acting'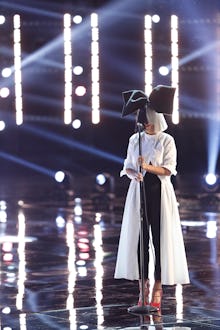 NBC/Getty Images
"Broken Glass," the 11th track off Australian recording artist Sia's most recent album, This Is Acting, is no Annie Lennox's "Walking on Broken Glass," though the song is not thematically far off that classic track. Instead, like Lennox, with "Broken Glass," the prolific musician explores the emotional turmoil and tumultuousness that surrounds coupling — or, rather, the specter of conscious uncoupling. 
Like Lennox's hit '90's song, Sia's "Broken Glass" is something of a call to arms to clean up the toxicity that sometimes weaves its way into interpersonal relationships. On "Broken Glass," Sia is encouraged, confident in enacting positive change and braced to fight for love. What plays out on the track, a slow-burning song that gradually builds to impassioned lyrical and sonic peaks, is a sage manifesto for lovers' harmony. 
Read more:
"Lay down your arms," Sia sings after the track's melodic opening instrumentals, which take on a slightly Eastern-influenced ambiance. "I don't wanna fight anymore/ Rough seas will be calm/ Hold on while we weather the storm/ We fall down like dogs playing dead/ But our love's not worth playing chicken with."
"I'm not discarding you like broken glass," Sia continues in the track's chorus. "There are no winners when the die is cast/ There's only tears when it's the final dance/ So don't give up, it's just young lovers' romance."
"This too shall pass," the track continues. "We're right where we're meant to be/ There's things I don't ask/ What I don't know can't hurt me."
"'Broken Glass' has all the hallmarks of a lavish Sia pop anthem: soaring vocals, drums and synths on full blast and inspirational lyrics like "don't give up" and "I'm not discarding you like broken glass,'" wrote MTV''s Madeline Roth. "It's a promise for people whose spirits need a little boost, and peaks with a key-changing climax that'll leave you fist-bumping like Rocky."
Yet in reviewing the 40-year-old's most recent studio effort, Pitchfork awarded the LP a mediocre 6.8 out of 10, though writer Cameron Cook was quick to point out where Sia succeeds on This Is Acting. 
"She remains a vocal powerhouse, capable of injecting vitality into even the most formulaic numbers," reads Pitchfork's review, which later singles out "Broken Glass" specifically for what it gets right.
"That aching, slip-sliding, cracked voice reinvogorates the military-drums-and-anthemic-chorus formula on lead single 'Alive,' and even amidst the record's slow moments, the character of her voice reels you back in: 'Broken Glass' seems like a typical, by-the-numbers ballad, until not one, but two belted key changes rescue it from blandness."
Elevated by those dramatic key changes, a thumping percussive loop and boisterous vocals, "Broken Glass" belongs to the musician's eleventh studio album, which was released on Friday. Previously, Sia debuted "Reaper," another track on This Is Acting, which was co-written and co-produced with the help of powerhouse American recording artist Kanye West.
This Is Acting track list: 
1. "Bird Set Free"
2. "Alive"
3. "One Million Bullets" 
4. "Move Your Body"
5. "Unstoppable"  
6. "Cheap Thrills"
7. "Reaper"
8. "House on Fire"
9. "Footprints"
10. "Sweet Design"
11. "Broken Glass"
12. "Space Between"