"Move Your Body" Lyrics: Meaning of New Song Sia Wrote for Shakira Off 'This Is Acting'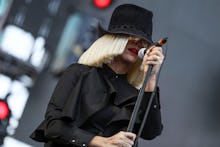 Rich Fury/AP
Singer-songwriter Sia has written a plethora of songs for A-list artists — including Rihanna, Beyoncé and Shakira — that didn't make the cut on their latest albums, so naturally, the dynamic artist grouped all the rejects together for her latest album, This Is Acting. "Move Your Body," a giddy dance hit, was written for Shakira, the Guardian reported. 
"Poetry in your body," Sia sings over a lively club beat in the first verse. "You got it in every way/ And can't you see it's you I'm watching?/ I am hot for you in every way/ And turn around, let me see you/ Wanna free you with my rhythm/ I know you can't get enough/ When I turn up with my rhythm." The song's full lyrics are available on Genius.
Read more:
"Playing 'spot the client' is one of this album's pleasures," The Guardian's Kitty Empire wrote in her review of This Is Acting. "'Move Your Body?' Shakira!" With the knowledge that "Move Your Body" was supposed to be Shakira's song, the lyrics and melody sound like a painfully obvious Shakira radio hit; Sia even morphs her voice to sound like Shakira in the chorus.