"Cheap Thrills" Lyrics: Why Rihanna Turned Down Sia Song From 'This Is Acting'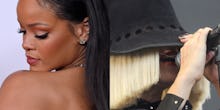 Mic/AP
Music fans are celebrating a new world of music in 2016, from Rihanna's rebellious Anti, to Sia's collection of hits in This Is Acting. The singer, who also composes songs for the likes of RiRi, Adele, Britney Spears and Beyoncé, said her latest album is comprised of 12 tracks written for other musicians, including the popular "Cheap Thrills" which was originally written for Rihanna.
However, the Barbadian hip-hop artist passed on "Cheap Thrills," and was instead planning something much different. The pop jam with notes of Caribbean influence and an upbeat tempo was left off Rihanna's eighth studio album and instead included in Sia's seventh. Why? "I realized just as soon as I was cutting it that it sounded a little bit too Brit-pop for her," Sia told Rolling Stone in December.
Read more:
Rihanna tried something very different for Anti. The recording artist's latest musical release is far different from several of her previous albums, and marks a clear turning point in her career. The 27-year-old artist is hoping to break out of the shell surrounding her, and part of that means exploring new music and sounds. Sia told Rolling Stone RiRi's manager asked for the next "Diamonds," which Sia wrote as well, to serve as a soulful anthem for Anti.
"We did actually send it to her, but they passed on it, and then I just couldn't stop listening to it in the car," Sia recounted. "For some reason, I really liked listening to it which makes me feel masturbatory, but I wouldn't normally be just jamming out to my own tunes. There's something really uplifting about it that put me in a good mood, and I would just pretend it wasn't me singing. It felt very summer and fun, and I was like, 'I'll put that on there.'"
The lyrics are quite the opposite of "Bitch Better Have My Money," which Rihanna dropped in 2015:
Baby I don't need dollar bills to have fun tonight/ I love cheap thrills/ But I don't need no money as long as I can feel the beat/  I don't need no money as long as I keep dancing.
Could it be that RiRi didn't want to confuse Anti's narrative? "Cheap Thrills" feels very similar to a classic hit Rihanna would have included on Unapologetic or even Good Girl Gone Bad. Sia's song would have probably taken off even on Rihanna's first album, Music Of The Sun. 
However, the song would feel extremely misplaced on Anti, an album which is meant to defy listeners' expectations. "Cheap Thrills" works very nicely on Sia's latest album.