Did Wiz Khalifa Play Kim Kardashian and Ray J's Sex Tape at His Concert?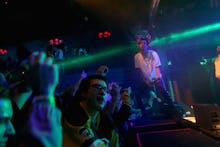 After the Twitter war between rappers Kanye West and Wiz Khalifa last week, a rumor began circulating that Wiz Khalifa retaliated by playing the sex tape of West's wife, Kim Kardashian West — in which she stars alongside singer Ray J — at one of his live concerts. 
Wiz Khalifa's official DJ took to Twitter to explain why the rumor was simply not true. "Wiz did not play a Kim sex tape over the weekend during a concert," DJ Bonics tweeted. "Can't believe you guys believe this stuff."
Read more:
"That would have been a good idea, but we were on a whole other continent guys," DJ Bonics said in a radio interview with the Rat and Puff Show, after returning from a South American tour with Wiz Khalifa. "So not true, but I should tell him about that, you know? That might be a good little thing to do. He was pretty upset this week, so things were said." 
The rumor started on the satire blog page, Negros Against Hairline Abuse, which even has the disclaimer "NegrosAgainstHairlineAbuse is satire. Humor. Not real. :-)" at the bottom of the homepage. 
"Wiz Khalifa played Kim K and Ray J's tape live on stage in front of a crowd of over 30,000 pot heads who will forget they ever seen it by the morning," the site read.
However, many fans began spreading the rumor as fact. 
When asked by the radio show hosts if the Khalifa-West beef was for real, DJ Bonics replied, "This is definitely for real. I woke up with my phone blowing up in South America like 'Hey, Kanye is going at Wiz right now.' We ended up finding more about Kanye than we wanted to know," referencing Amber Rose's recent comments about her former lover.
But it looks as though Yeezy is ready to call a truce, writing on Twitter Friday, "God's dream ... Never speak on kids again ... all love ... all blessings ..."
"It's going to be an interesting week," Bonics said. "Since we were away in South America for the week, you never know what will be said this week, so I would definitely keep the ears peeled." Khalifa's newest project Khalifa is slated to release on Feb. 5.